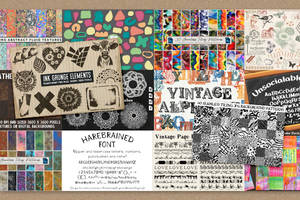 HG Designs Subscriber Area
Lots of high resolution goodies for graphic design including textures, photoshop brushes, seamless patterns and more.
---

Description
For the Nude Auction at university for our grad show. the piece will be A2 in size. i will be getting it printed and mounted ready for the sale.

Basically the Visual Arts & Graphic Design Grad show holds a nude auction and people donate nude artworks to be bid on to raise money for our grad show. The majority of pieces within the auction are visual arts pieces, there are hardly any design based pieces, so i thought why not create a nude inspired by the Bauhaus posters. I'm pretty happy with the way it's turned out. I'll probably still do some last minute tweaking etc. maybe a bit of fine line work or something to finish it off. but at least the majority of it is there.
Image size
805x1138px 91.85 KB