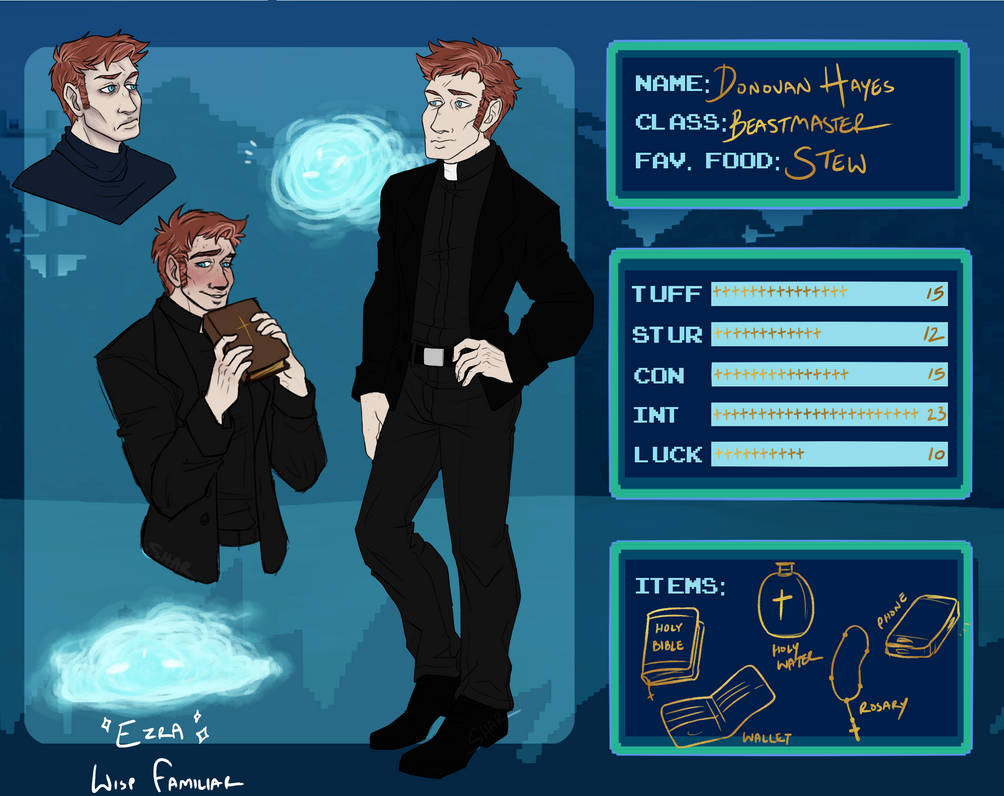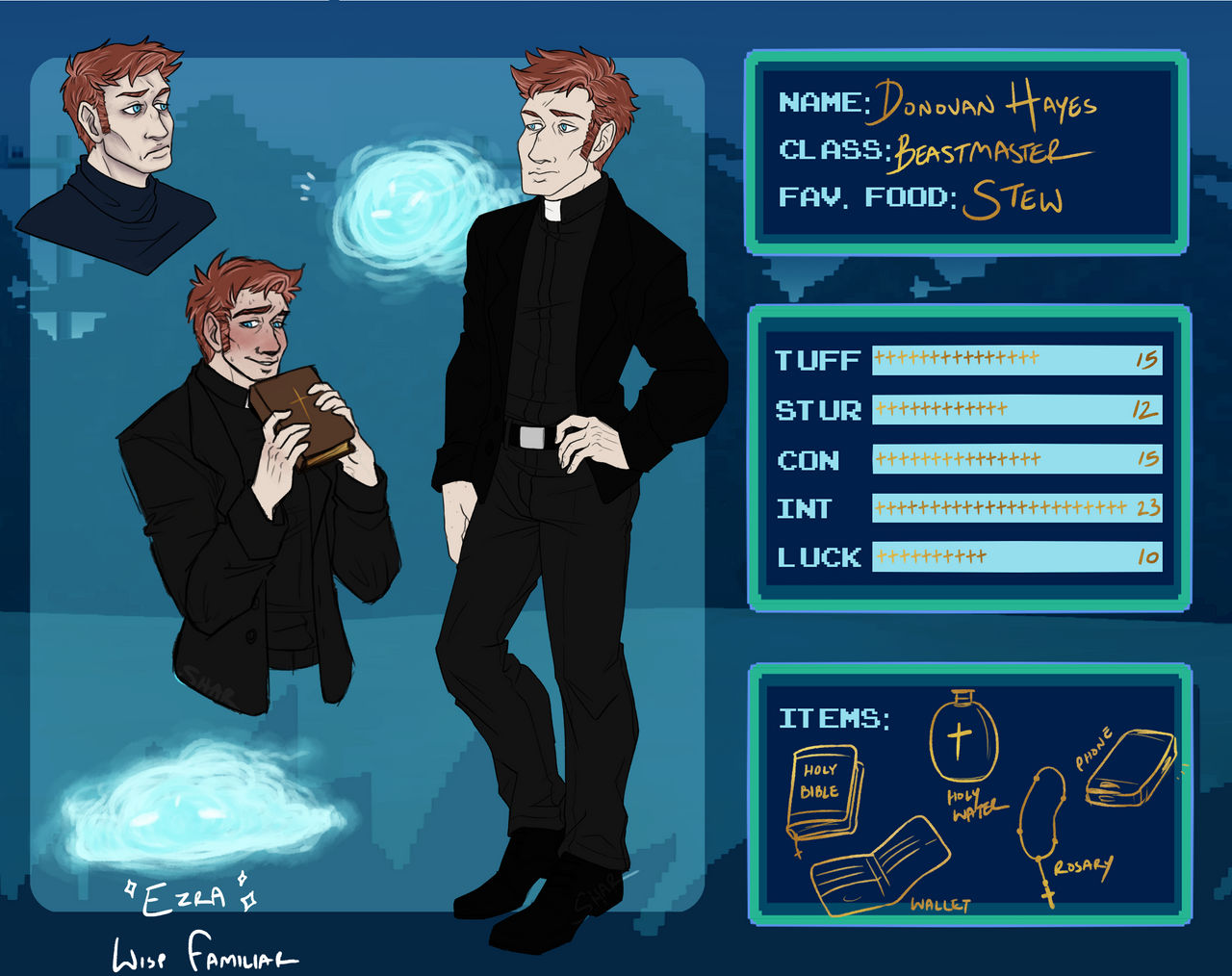 Watch
✧Intro✧

Donovan Hayes

Human, or so he thinks (nephilim, the child of human and angel)

50-some years old

Cis Male

White (of Irish descent, 1st gen american)

Bisexual (leans towards other masc folks)



✧About
✧
Height: 5'8"
Weight: 150
Class: Beastmaster

Fav Food: Stew

Weapon: Bible for smackin. Gun for shoot.
Inventory: Phone, wallet (mostly empty, stuffed with receipts and coupons usually if anything), Holy water, rosary, Bible, small leather bound journal + pen (for notes and reminders)

Job: Priest, exorcist
Education: Bachelor's in religious studies + philosophy

Vehicle: Bicycle, however he usually walks places.

Pet: Wisp-like spirit orb named Ezra

Outfits
✧
Stats
✧
Toughness:
♱
♱
♱
♱
♱♱♱♱♱♱♱♱♱♱♱♱♱♱♱ 19
Sturdiness:
♱
♱
♱♱♱♱♱♱♱♱♱♱♱♱♱ 15
Confidence:
♱
♱
♱
♱♱♱♱♱♱♱♱♱♱♱♱♱♱♱♱♱ 20
Intuition:
♱
♱
♱
♱
♱
♱♱♱♱♱♱♱♱♱♱♱♱♱♱♱♱♱♱♱♱♱♱♱♱♱♱♱♱♱♱ 35
Luck:
♱
♱♱♱♱♱♱♱♱♱♱♱♱♱♱♱ 16
Total: 15 + 90 (x6 bkv)
✧Abilities✧
- Medium: ability to see and interact with spirits, as well as help them to pass on and to free them from being bound to objects/locations.
- Spiritual Magnet/Beacon: more of a passive ability, in part a side effect of being a medium. Also in part of being of angelic descent. Draws in and attracts spirits to him. Also works in the reverse, in that he can be drawn to locations with spirits and spiritual energy.
-
Soul Link:
Not exactly an ability, but he has a companion spirit "guide" as is tradition for his family. The process of handing down a companion spirit requires that the spirit is bound with the human's own spirit, with the intent that the guide will help protect their master and aid them when needed. It does however mean that if something were to happen to either the master or the guide, that both would be harmed equally. Ezra (Donovan's guide) is essentially an extension of his own soul, but with a vastly different personality.
✧Personality✧
| Tired | Patient | Quiet | Observant | Organized | Humble | Stern | Compassionate | Just | Polite | Shy | Awkward |


He's slowly but surely working on improving his flaw of being so blunt and coming across more open and inviting, and his sleep has somewhat improved as he's gotten some much needed help from a couple of angels. Still not great at interacting with the living.


He's quite good at scolding and tries to motivate others by doing his best "disappointed dad" act, which is hardly an act as that is just how he IS. He's surprisingly not judgmental, as it's part of his beliefs that it is not his place to judge people. Of course, sometimes he does judge others as it's human nature, but he's quick to scold himself when he does. Donny holds himself to the same standards he holds others to, if not a harsher set of standards. For the most part he's quiet and keeps to himself.


✧Likes✧
⋆Cool swords (he collects them, plus they're quite handy when someone breaks into the house.)

⋆Tea and coffee (with milk)
⋆STEWS, but especially meaty stews. Veggie stews are second best.
⋆Honestly, any hearty or savory food is pretty solid.
⋆Also unhealthy and sweet foods are definitely a weakness. He rarely indulges and only does so when encouraged to, or given gifts of sweets/junk.
⋆Helping someone (spirit, cryptid, human, whatever) to find closure, or move on from something that was "haunting" them.
⋆Alone time, sleep included.
⋆Reading (anything from fiction, to historical, to religious subjects). Physical books only, because reading screens is hard on his old man eyes.
⋆Angels.
⋆Shows of affection from friends. Please hug him and hold him.
⋆Horrendous patterns on clothing (guilty pleasure)
⋆Ezra
✧Dislikes✧
⋆Being called 'Donny' or 'Don' or really any nicknames for that matter (these are embarrassing and will fluster him if coming from a friend)

⋆Being kept up at night because of stray spirits/entities and the occasional visiting demon.
⋆Having his stuff moved around or disorganized (it happens a Lot)
⋆People getting uncomfortably close to him, keep out of his personal space (unless ur a friend then TOUCH HIM PLEASE)
⋆Loud and rowdy people/spirits in his home or in church or anywhere around him
⋆Being a spirit magnet, and constantly having to deal with them at all times of the day
⋆Having to share his home/space with a variety of spirits
⋆Anyone other than himself being rude or mean to Ezra
⋆Ezra
✧Other✧
⋆Has faint freckles all over. If he got a normal amount of sun, they'd likely be more prominent, but he's a big nerd and generally stays indoors/in shaded areas on top of covering most of his skin on a daily basis.
⋆His wisp companion Ezra is technically a familiar (or a guide)... He bickers with Ezra often, and Ezra is constantly bothering him.
⋆Thinks he's 100% human, just has a trait passed down his family bloodline? His family is entirely made up of other mediums, anyways.
⋆Spirits and ghosts are attracted to him because he has a comforting aura to them. He doesn't know why spirits gravitate to him, or why he can see and talk to em beyond that it's a thing passed down his family's bloodline for generations. He's aware most humans can't interact or see spirits.
⋆He uses his "natural" talent to help those that are stuck in-between to move on, whatever that may mean for the situation. He doesn't necessarily send spirits to heaven or anything, but can free them from being bound to any one place or item. Sometimes, however, when he is able to send spirits on to their afterlives, he will do so.
⋆Donovan also uses his talents to perform "exorcisms", which are nothing like traditional exorcisms. It's more of him getting after demons and entities for doing things they shouldn't do. This is where the disappointed dad act comes in. (think like: "Didn't I tell you NOT to possess random people that don't want you messing with them?" or "You can't just kick someone out of their own home, you're better than this." or "AGAIN? REALLY? I'm so disappointed in you right now, this is the fourth time this week." ) He'll literally just talk to naughty spirits to get them to stop being naughty. Can do normal traditional exorcisms, when necessary.
⋆Anything non-human that came from Ireland makes him very nervous, and depending on the type of cryptid/fae, he will be afraid. For reasons involving his family and how they left Ireland a few generations ago to get away from certain groups of fae.
⋆EXTREMELY SQUEAMISH. He does not handle gore well at all. Blood is...somewhat manageable but it will make him visibly upset/nervous. Seeing serious wounds (whether or not its ghost gore or living person gore, even if the injured party is ultimately unfazed/okay) will probably get him to faint on the spot.
✧Background✧
He was a normal boy for most of his childhood, at least he thought his childhood was pretty normal. He could always see and talk to spirits and beings that most humans could not, but he didn't really know this was not normal and it took until he was 9 or 10 to realize this. His family could all, to some extent at least, interact with spirits, though none were quite as attuned as Donovan was. It was hard for him to find friends growing up, as even back then, spirits liked to hang out around him and often caused strange occurrences in his presence, which often scared off other kids his age. He and his family was seen as odd and slightly creepy, especially given that they lived in quite the haunted house.

As he grew up, he decided that getting into religion might help him with his situation, and that maybe as a priest he could have more opportunities to help spirits out, as well as help the living. After all, he was quite good at talking to ghosts and helping to free them from what they were bound to, as well as helping them to get along with and share the same spaces with humans. And the reverse, as well, of course. Teaching other living beings to respect spirits, in all situations, but especially when it was impossible to get a spirit to go elsewhere (situations where the spirit was there first, etc etc).
He's not sure why he was drawn to Indieville, but this is where he ended up.


He doesn't really know when Ezra came into his life, but they've been with him for many many MANY years. He suspects Ezra might have been by his side since he was a child, though he just wasn't aware of it at that time. The two bicker like old friends, that's for sure. Ezra is sort of a guiding light, as well as a protector of sorts, though Donovan might disagree with both of those statements.



✧Shipping✧
Having real friends that are living(ish) would probably do wonders for the guy. He could be a dad-figure, as well. Open for rivals and enemies, too! Please give him hell.


✧

Relationships

✧


Strong dislike |

Suspicious |

Wary |

Hmm... |

Okay...|

Respect |

Family |

Oh no |

OH NO 💦

Ezra dislikes |
Ezra is wary|
Ezra likes |
10/10 Ezra would chill with






Tomiel
: OH BOY is he head over heels for Tomiel, absolutely smitten. 10/10 would be held by this babe all the time, and loves goin on dates with him. Often feels bad that Tomi has to take care of him frequently. Ezra likes to hang and snuggle in his pockets and even all those wings sometimes.



Eli
: A GOOD BEAN, he enjoys Eli's presence and finds him to be very helpful and encouraging. Appreciates Eli reminding him to eat and bringing him food, it's so sweet and kind. Ezra really loves being pet by Eli, and loves seeing his other forms (totally not just so they can chill in his pretty wings).



Hibi: A big ol annoyance. Doesn't trust him to be too close to Ezra, given how interested Hibi is in them. Very suspicious. At least Hibi is sort of entertaining, though Donny will NEVER admit that. Ezra seems to get along well with Taka and Shin, though.



Domino: Thinks he's a naughty lil ghost and very much does NOT appreciate his humor (esp since it involves gore and things sticking out of Dom's body which is gross and terrifying). Does, however, appreciate that Domino is at least kind enough to make sure he was alright after he fainted.



DJ: Finds him to be weird, and it's totally because of the whole drinking in a cemetery thing. And, okay, he's a little weird too cause he's a demon. He seems harmless, and Ezra likes him, so Donovan can't really dislike him. Kinda makes him curious though and wants to know more about DJ.


Prescott: A colleague, he gets along well with this other priest. Appreciates his help sometimes when he needs it. Overall a good boy, Don gives a seal of approval. Ezra is on the fence, since Prescott seems to dislike them, or so they believe.


Mesmer
: Probably forever on Don's naughty list, since the little mischievous shit likes to take souls to sell. A frustrating enemy.


Sal
: Fuck this guy. Don thinks he's an unpleasant creepy man with an army of rats, and just wants him to go be weird with his rats elsewhere and stop invading his frickin apartment.


Merle
: Finds him to be strange, but he's a decent person. He doesn't really seem to care about the whole witchcraft/wicca stuff, as Merle doesn't consort with demons or do
evil
things. Doesn't mind having all Merle's birds chilling on him either, and he finds the birds endearing. Ezra likes to pester Merle because it's fun for them to be annoying to grumpy folks, but also enjoys to play with the birbs (and sometimes scares them).


Anders: Initially thought this dude was a demon (and was kinda terrified of him for a while after seeing him cronchin some BONES), but now thinks he's alright. A little strange, but seems to be nice once you get past how rude he seems at first. Ezra seems okay with him, has only watched from Don's pockets tbh.



Lucky
: It's complicated. He finds Lucky to be quite um, startling and unnerving. It's probably the whole void thing Lucky has got going on. He seems to be okay, though, but Don still isn't really comfortable with him. Ezra gets along well, possibly to spite Don because they know it drives the priest bonkers when Ezra and Lucky get together.

Eva
: PRECIOUS CHILD. He wants to help her out and often mends her clothes for her, sometimes even getting her new clothing. Hopes to help patch things up between her and her parental unit... She's welcome to stay whenever she likes. Ezra loves to play and snuggle with her. 10/10 would ditch Don to play with Eva every time.


Ezra
: He gets along well with this necromancer, kind of relates to him in a way, since they both work with the dead. Ezra likes Ezra, likes that they share a name and just likes hangin out with him. He makes them feel comfy, similar to how they feel around Don.



Danube
: He knows Danube is a good person deep down, but this guy gets on his nerves often. Doesn't like having the centipede come up and scare him, as he tends to do... Or have him crawl around on him and whisper in his ears. Ezra enjoys having Danube around, is very curious about his coat, wants to get up in there and poke around.


Goatfrey
: Strong dislike, given that Goatfrey likes to make him uncomfortable. His son is okay though, if a little bitey and painful...

Aahh I'd love t hc/rp sometime?
Reply

whom would you want to interact with don 👀👀👀
Reply

Aaahh I haven't totally had this kid approved yet, I mean I only need a response on the comment I made for his slot
but this kid
Elijah App
I mean I can use another kid as a placeholder until he's totally approved if it's more comfortable for you??
Reply

The thought of Grear getting hit by a bible and hissing just came to mind and I laughed...
Reply

LOL im crying

i dont even know if or why he'd smack grear, BUT IM STILL LAUGHING
Reply

I have no idea either--it just popped into my head when I read the whole will smack with the Bible thing...and Grear being half demon and all, it just made me laugh 😂
Reply

Oh I like this guy a lot, I'd love to get to know him. I like RP that isnt shipping oriented as well, just slice of life and adventures.
Reply

hehee i'm glad you like him!! i'm excited to do stuff with him ;w; and yeah, i feel it, slice of life and goofy normal stuff is 👀👌👌

so is shipping, too, but yeah lmao
Reply

Oh yeah Shipping is fine buuuut...I feel like too many RPs are started just for the sake of it, I like when characters can just get to know each other and share some experiences before that pops up as a possibility. Besides its more fun! If you ever want to RP on Discord hit me up.
Reply

yeah, i get ya! i like things to start slow usually too, get to know the charas a bit first before anything and all that.

you're welcome to hit me up, too ;w;
Reply

Reply

HE SEEMS SUPER NEAT
The HC and RP possibilities are endless with a character like this!
Awesome job!
Reply

;w; thank you

i really loved the idea of 'spirit dad who scolds spirits' so i... had 2 do this LOL
Reply

Is he able to see spirits that others can't then?
Could there ever be a situation were he is scolding a spirit but it looks like he is scolding the air?
Would look rather amusing UvU
Reply

to humans, i'm sure that's what it'll look like, yeah lmfao. and of course, any non humans that cannot see ghosts too.

if anyone looks at him weird he'll either ignore em and keep scolding, or just shrug and say "ghosts, amirite?" or somethin
Reply

Haha I see! So he will be very casual about it then?
He has big dad vibes!
Reply

he tries to be casual about it, yeah. aND YEAH. he really acts like a dad to stray spirits, ghosts, and even demons at times (despite being a priest and religious, he does not hate demons or anything for what they are).
Reply

OH
that is an interesting trait for a religious man and a PRIEST to have!
How did he develop this trait or has he always been very fatherly?
Reply

hueuhuhehhehheee fatherly

no but, he has been pretty uh, like that for most of his life. the mature dad-friend. he just has the urge to guide others and be that sort of figure. but also he, despite being religious, knows that demons do serve a purpose and often do not ask to be what they are, and all that stuff, hence why he does not hate them!
Reply
(1 Reply)