Edit: 2 years later here I am changing Wolf Boy face xD
I dunno.
This whole wolf boy concept is demanding all my skills and attention... I feel so inspired

(plus I am happy 'cause I might have finally - finally! - found a confortable way of doing skin xD)
Meet the rest of his family!

How much I love the grey guy I can't even explain why xD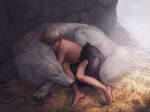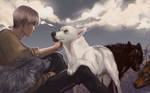 And of course... My favorite part is the boy's knee and arm.... I have problems x)
No refs used.
Photoshop elements 8 and graphic tablet.
You may NOT copy, sell, heavily reference, trace, steal, put this artwork on your website/blog/dAaccount or use it in any other way without my written permission!

Thankyou
____________________
Art©Federica M. Marchi aka Sharaiza
Image details
Image size
5906x3390px 18.48 MB