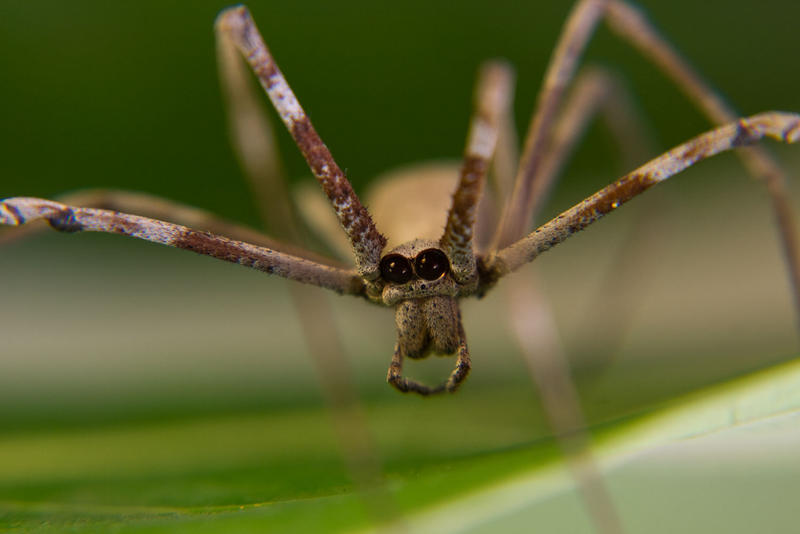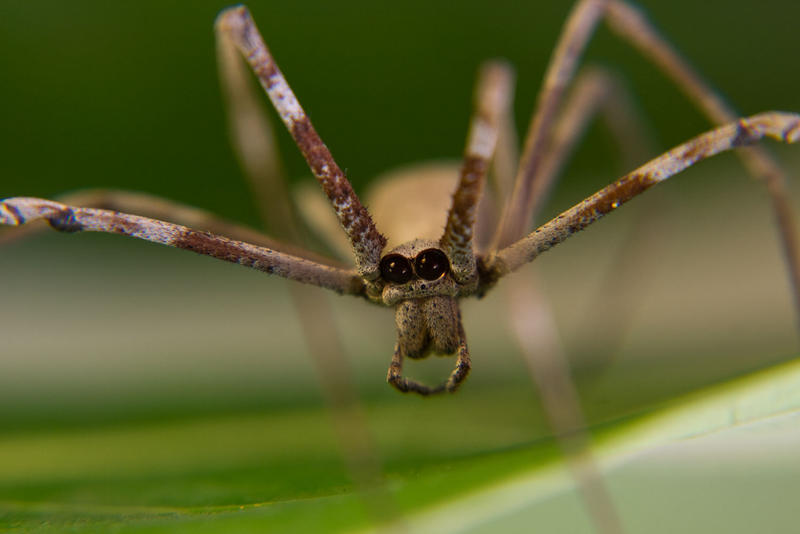 Watch
My Rufous Net-casting Spider (
Deinopis subrufa
). I caught her in Hervey Bay a couple of months ago, and it's been an interesting experience to watch her capture prey. See the second half of
this video
to see how this spider catches her prey.
Practicing with the close up filters I purchased a couple of months ago. Quite impressed by the results, but I do still need to get myself a dedicated macro lens eventually.
Body
:
Canon EOS-400D
Lens
:
Canon EF 24-105mm 1:4 L IS USM w/Hoya +4 Close Up Filter
Editing
:
Processed .CR2 RAW (auto WB & exposure), downsized from camera original, no other editing.
Copyright © Shannon Walters 2011, All Rights Reserved.Please do not use my images without my permission.
Comments, critiques and favs are always appreciated, even if I don't get around to replying to each individual one.

Reply

These eyes are f... scary Oo Great shot!
Reply

Thanks!

Whenever I look at her eyes I can't help imagining what it would be like being some kind of insect and seeing those eyes staring down at you.
Reply

great shot! the spider reminds me of something out of the matrix/terminator (can't remember which) where you have this giant brain coming down with large thin robotic arms.

i agree with moosenable, really looks like he has a sort of personality.
Reply

Thanks!

I know the thing you're talking about, although I don't remember which movie it's from either...
I was hoping the photo captured as much personality as the spider has when you look at her in real life, and it looks like it has.
Reply

Well I know I'm not a premium member so I can't technically give you a critique, but since you have requested it and it looks like no one has written one on this fantastic picture I would like to offer my humble opinion

This picture startled me when I first saw it. But in a good way! The blank stare that the spider gives us creates an interesting connection between creature and viewer. I particularly like the way that the legs make me look straight towards the face and body of the spider. This sort of "play" with perspective really brings out the focal point of the picture. The crispness of the picture is also "startling" in a sense and brings us face to face with those buggy eyes and fangs. All in all, the subject matter isn't anything too original but the way it is presented and the way the spider is sort of thrown into the viewer's path is awesome. Great job and I can't wait to see more of your photos!
Reply

Thanks!

And further thanks for the detailed comment!

I've been trying to get a decent "portrait" of this species since I took some (less than good) shots of another one back in 2009, and it's good to know that I have achieved what I was aiming for

Reply

Spiders scare me to death, but his little eyes capture personality somehow. Great shot!
Reply