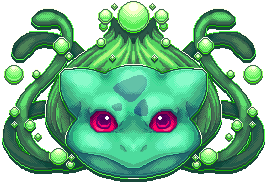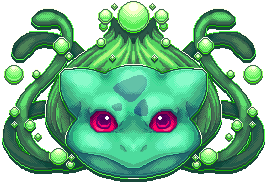 i miss drawing pokemon, so i wanted to see what a poke-portrait would look like in my mirror pixel portrait style 0:
uploaded it as a 100% size F2U, in case anyone wants...a bulbasaur staring into your soul, on their page....??? lol, the face turned out a little spooky. i actually have a harder time with simpler designs when it comes to this style

(the spheres are spores, i guess??)
i'd like to try more of these though, so i might make a poll for which poke to portrait next ovo
USE RULES
*credit is appreciated, but not necessary (especially if you use the dA thumb that redirects here when clicked)
*off-site use is also fine
*just don't repost as your own work or claim that you drew it!
*never sell my resources in any capacity (unless it's a clearly labeled base that is intended for sale after being sufficiently altered)

*please do not use in association with content that is explicitly NSFW or politically/religiously affiliated

Amazing! the shading is beautiful and I love the bright vibrant colors, to grab the viewer's attention 11/10 would Bulbasaur again
Reply

This looks really cool! Love the colours and the composition/layout.
Reply

I really love the colors you use for these sort of things. Looks real nice and sharp. Dig the baubles too.
Reply

Reply

I love the shades of green you used

Reply

thanks!!

the end result was a bit different from what i started with--they were fun shades to play around with! <3
Reply

I. LOVE. THIS. hella gorgeous bulbasaur.
Reply

The precious leaf....turtle? Frog? Kinda hard to tell what it is really, but precious still.
It looks even better in your style!
Reply

ahh thank you!! ;v;

it's probably not canon, but i've always been fond of the idea of bulbasaur being a frog <3
Reply