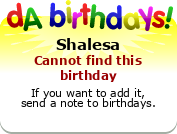 Something about me! I live together with my honey and my two little cats near the Black Forest



I work as a repairer for watches and I hate the cold. But I'd like to work as a professional author and publish my fantasy novels.


My second great love is Star Trek

... The final frontier



Since 2008 I use Linux, because it's so much safer than Windows and I can get almost everything for free.



I love creating digital art with the open-source-program GIMP which I currently use on Mint Cinnamon. I also try out MyPaint, Krita and Inkscape.
It is relaxing after work and it makes fun discovering new features of the program und playing with colours and shapes. However I'm not a porfessional, but I'd like to improve my skills.


Most of my art was done late at night

:thumb62788259:

But when I get to sleep finally, then
Or I become hungry

I also like to take photographs, mostly of my (previous) pets and landscapes.


My favourite Band are



I don't play very often on my laptop, but the best game ever (in my opinion) is Tony and Friends in Kelloggsland, a game running with MS DOS


You are very welcome to visit my chatroom, chat.deviantart.com/chat/Chatr… !!


Here, the German language is allowed



I hope you will enjoy my pics



Skype: agnetha233
Facebook: www.facebook.com/shalesa.tieh




Feel free to add me, just send me a note that I know, where you know me from





P.S.: Thanks for all the Deviants for making these awesome stamps I am using!!

Please click on the stamp and you'll see all the other beautiful artworks of these great artists!!