dA gallery l etsy shop l zazzle store l tumblr l blog l twitter
...
All 12 of my Regency fashion illustrations are soon to be in colour... been meaning to for ages but finally actually doing it now! The first two are done: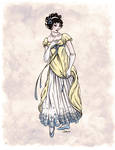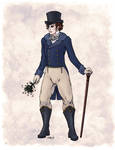 Prints of them are available
here
, or in my
etsy shop
or my
zazzle shop
(where they're on all sorts of other things too, like cards, tote bags, stickers etc).
In my etsy shop you can also see a new art project I've been working on for the past while, taking vintage 19th-century illustrations (line engravings) and pairing them up with 19th-century poetry and then digitally painting them. I adore Victorian art and poetry so this is a side project of love really, I hope you all like them too

Victorian Poetry Prints
...
♥ ♥ ♥
CSS made by
TwiggyTeeluck
Texture by
LilySanches