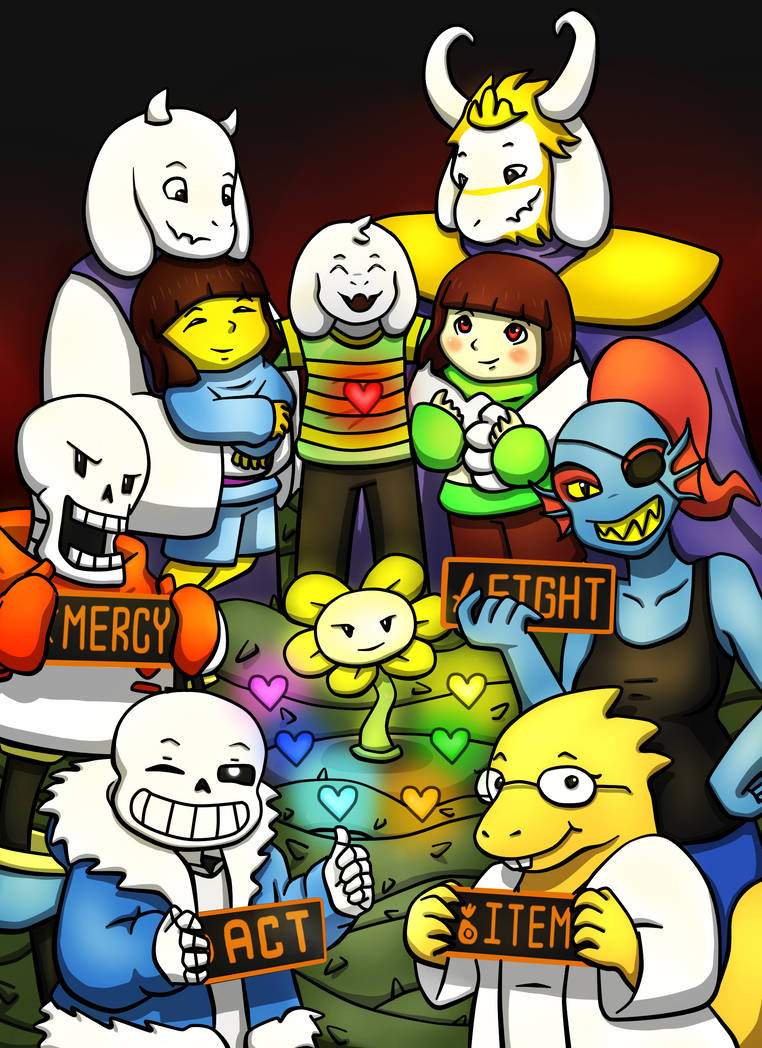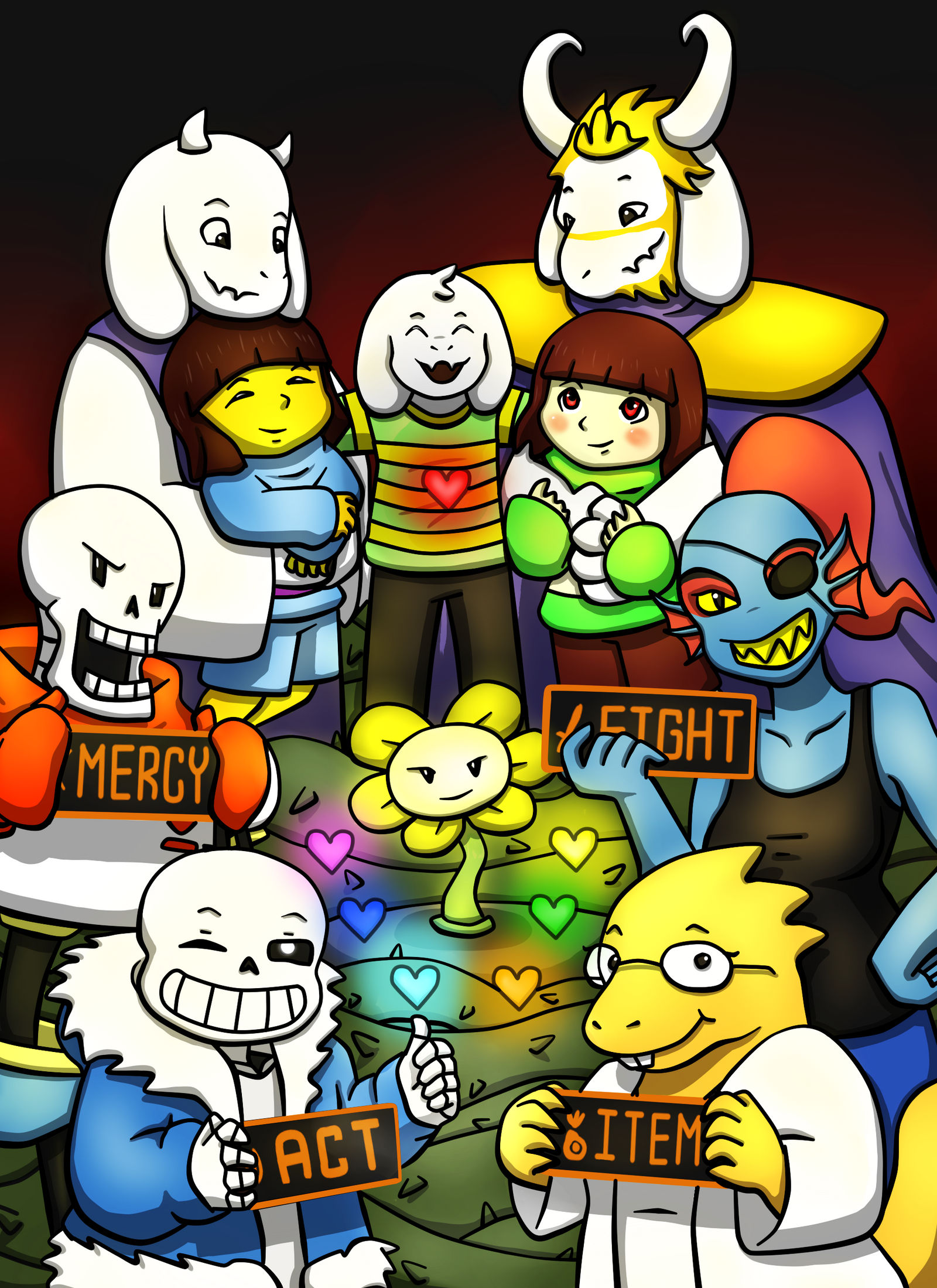 Watch
Happy Anniversary Undertale! We've come a long way from September 15th last year, from expanding the awesome fandom to finding so many secrets and mysterys from within the game that just made us love it more.
This work of art officially became my favorite game of all time when I found it at the beginning of this year and I love it still. It's still so inspirational and just incredible. I can't really put it all into words. Even the AUs which I usually wouldn't care to look into have been fantastic.
Big thanks to Toby Fox, Temmie, all the contributors, the fandom, and everyone who has been a part of and supported this amazing game!!!
Let's continue to stay determined and spread the love (not LV haha) just like Undertale taught us!
And hey, if you feel like leaving a comment let me know what you favorite part of Undertale is! It can be anything from moments to battles to characters! I'd love to hear from you!

Yay everyone is together! This
Anniversary couldn't wish for a better pic!


My classmate show me this game about 9 or 10 mouths ago and back then I never thought that a game like this will be one of the best games I ever played Toby Fox is a genius!
also I think my favorite part of the game was cooking whit Undyne,
I really
enjoyed smashing stuff and burn the house!
At first I think she was my favorite, but now she is the second after the Skelebros but I still really like the fighting character of Undyne!
And how about you witch part is your favorite?
Reply

Couldn't have said it better myself!
The Undyne cooking segment is a classic. If Undyne taught a cooking class I would so be there. Although I would fear for my own safety haha. I wonder how many times she had to rebuild her house if she was teaching Papyrus like that

Choosing a favorite part is really really really hard. If I had to choose it's not really a specific part exactly, but my favorite thing was slowly learning about San's true character throughout the game. His character is just so dynamic and interesting. He goes from being a legitimately scary shadow in the woods, to being a fantastically punny comedian, to a serious and protective sibling, to being the judge of the underground, to an insanely hard and cool boss who is the last thing standing in the way of the world being destroyed, and he was maybe even a physicist in the lab! What a character!

I LOVE characters with layers of personality and backstory so I'd have to say that my favorite part of Undertale was discovering the secrets and new layers of lore and backstory about the characters, mostly about Sans obviously. He always fascinated me at every point in the game and he still does.

Reply

You are right Its really hard to choose a favorite part in the game it have so much in it, when you asked I couldn't really decide either just wroth down the part that witch one was fun to do in my first pacifist rout.
I did liked the genocide too, it shows another face of the game, but because of the suffering and sadness in it I didn't like to play it that much it left the mark on every thing that happened in it. (sorry for the English in this one I just didn't had the time to make it using more acceptable grammar just wrote what came into my mind

)
Reply

Yeah, I never played genocide, but I watched my brother do it and it was emotionally painful for both of us. But that's what makes it soooo good

Hey, don't worry about it! If I ever don't understand something or get confused I'll just ask or say something to you.
But I've never had to do that before so you're good! It seems to me a lot of people who are worried about their english being good enough actually communicate just fine

It's nice of you to be concerned, but you're fine! XD
Reply

Thank you, Most of the time I log in to deviant art in the
afternoon, but When I wrote that it was really late at night,
Usually when a comment or anything finished I check it if every thing is correct, no misspelling, or I always use too many ''I,,s

( Like: I did something .... and than I had something.....) Don't know if you had noticed that but that's one of my biggest problems when I write something.

Reply

And of course, your tribute to Undertale's first year of "love and determination" is excellent as well. All the major characters in one picture, complete with item buttons. You even got Flowey and Chara to behave! I'm impressed.

My favorite character in the game is probably Toriel, but I crack up at Sans' awful puns and Papyrus' unbridled enthusiasm. And Alphys reminds me of myself in several ways.
Reply

thanks so much! I'm glad to impress

Honestly, all the characters are so great it's really hard to choose. And they can all be relate-able in some way which just makes them more awesome. Sans is my definite favorite, but I truly love them all!

Reply