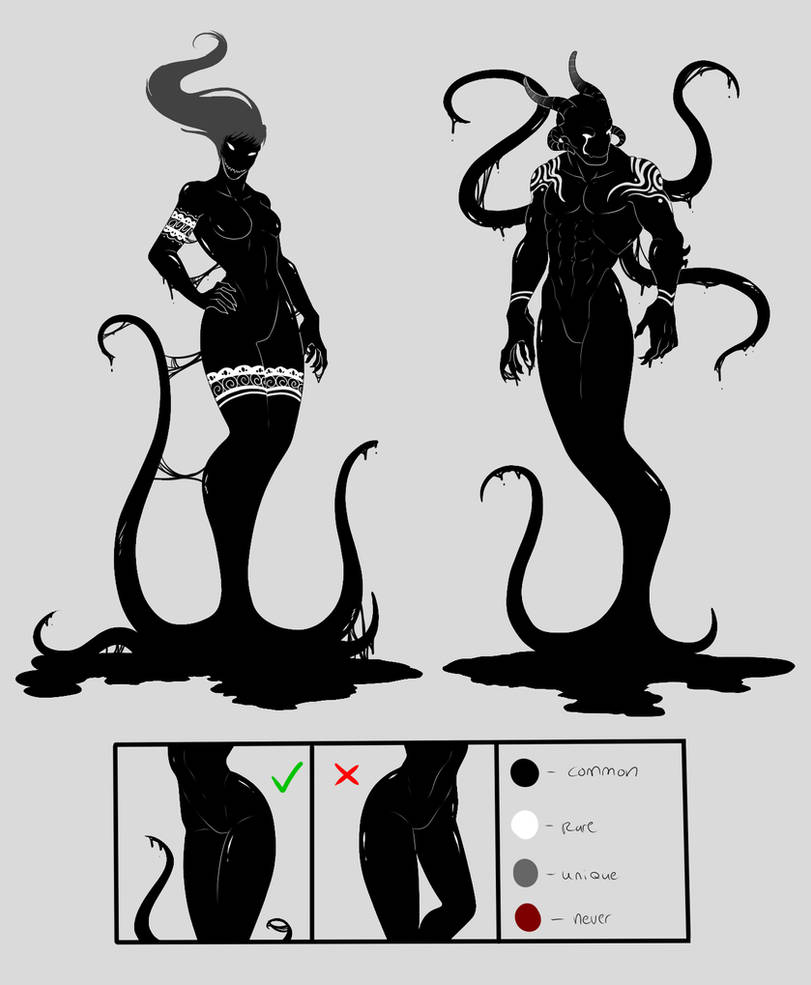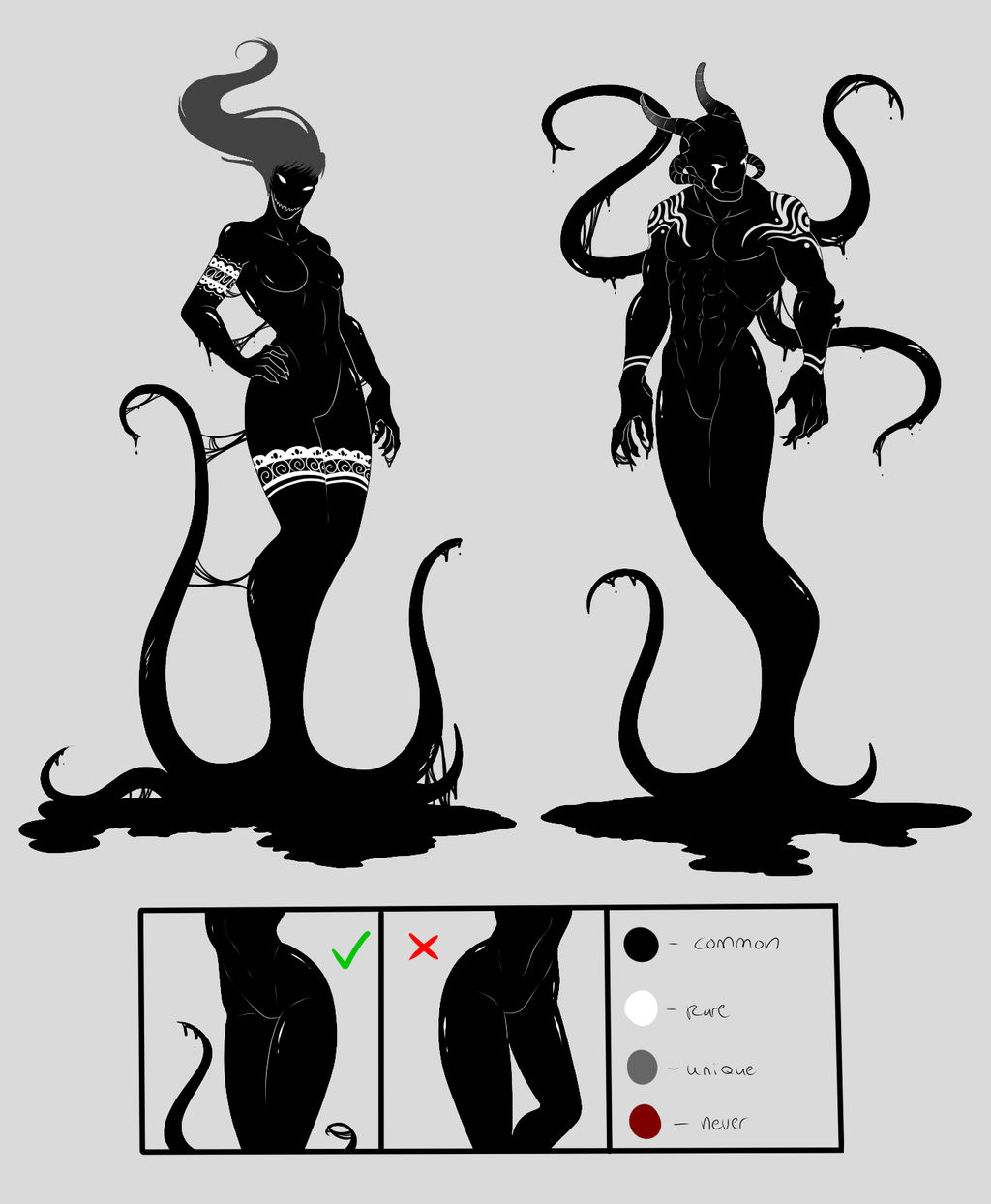 So i finally got to work this out. My shadowsona species info sheet. I've had these buggers for quite a few years now, and since people had been asking pretty often about them again, i decided it to be a good idea to finally pick them up once more, now that i had a bit of time.
I hope people will still enjoy them as much as they used to be. Be sure to read thoroughly, because there's a lot to know about them! As for the drawn out sheet above, its pretty basic in appearance, because most of the info on the species is just better explained by writing it down

----------------------------------------------------------------------------
BACKGROUND:
Not much is known about them, other then that they were most likely a human experiment gone wrong. While originally intended to be harmful, shadowsona's seem to mostly be simple tricksters. While they do have certain abilities that may seem scary to people, they dont really cause much physical harm. They are usually found at night, as sunlight harms and can kill them, invading peoples bedrooms and dreams silently, to plant nightmares or give them frights, before taking their leave again and continuing their way in to finding their next 'victim' to pull a trick on.
------------------------------------------------------------------------------
POWERS:
- Telepathic speech
A shadowsona is able to communicate via either vocal, or telepathic communication. They are also able to transfer a certain feeling to their 'victim', by letting their tendrils ( or hands ) connect with the human they wish to plague and inducing them with fear, anger or any other feeling. The one feeling they do NOT however transfer to humans, is love/passion and arousal, as shadowsona's do not indulge themselves in any kind of friendship/relationship with a human.
- Nightmares and personal fears
Shadowsonas are able to transfer nightmares and personal fears in to humans while they're either awake or asleep. This is part of their trickery and desire to plague humans. This works again by being physically touched by a shadowsona, allowing them to enter your mind and plague it at their will.
While they do enjoy doing this, either for fun or if they feel like the person is deserving of punishment, they would never try to make one person go insane. They are 'neutral' of some sort, and in order to stay 'hidden', as their kind and existence is to be kept secret, they do not do this often publicly. Only when they are absolutely sure they're alone with their victim.
- Shapeshifting
Shadowsonas are natural shapeshifters. This means their forms can appear however they like, as long as its humanoid or an animal. Their humanoid forms contain the shadow-like and ink-like appearance. However, any animal form they create consists of shadows, not the dripping ink. Some shadowsonas prefer to go trough their lives as humanoid beings. Other may almost never change in to a humanoid shape. Its entirely up to them.
- Immunity against physical harm
Being made of shadows and an ink-like dripping substance, it is almost impossible to physically harm a shadowsona. Punches, bullets, knives... Nothing works. While this may make a shadowsona appear immortal, they are far from being so.
Shadowsonas are greatly vulnerable against any kind of light source, causing them to stay hidden often during daytime in a dark place, weak against fire due to it being another source of light and heat, and water.
If a shadowsona stays near any of these sources too long, it will evaporate and die. Those who know how to stay away from any harm like these, can live up to ages.
They ARE able to physically harm humans, but they almost never do this! Think about scratches or choking. Even throwing them. However, shadowsonas are not aggressive, and do not attack humans physically unless absolutely needed,
- Movement in shadows
A shadowsona is able to stay hidden and move around in the shadows. This makes it easy for them to quickly get to other places, or to safety if needed.
They cannot however fly. Not even if they were to be shapeshifted in a bird or such.
----------------------------------------------------------------------------------
APPEARANCE:
- Shapeshifters
As stated before, a shadowsona is a shapeshifter. This means their appearances can change a ton! They can have animal features, extra arms, tails, wings, different kinds of heads such as animal skulls or plague doctor masks... You name it!
Their tendrils are a standard feature they have on their bodies, which either form from their back or the puddle of shadows/ink below their feet, or on both sides!
The things they simply do not have however, is multiple heads or clothing. They CAN however appear as if they have a cloak-like drape behind them at their 'feet', or even a 'hoodie' shaped head, but no clothes other then that.
- Colors
Shadowsonas are able to have all different types of markings, HOWEVER! Be aware of it, shadowsonas appear in ONLY black, white and greytones, with their main bodies always being black.
A shadowsona with white as its main body color is VERY unusual to see, and to explain the color picks above, there has only ever been one grey and one red shadowsona.
( The grey one was an auction long ago. The red one is part of the first shadowsona, the 'queen', her backstory as it is her nemesis.
The markings can vary from swirls, to dots, to lace-like appearances, scales and more. They're even able to have an almost fur-like pattern on their skin, but its unusual to see!
( As for markings i also do not approve of offensive markings such as a swastika or others, naturally, so they'll never be added in. )
- Gender
While shadowsonas can have distinct gender-specific looks, they can also be genderless. They also never show any sexual features of any kind ( meaning no genitalia or nipples ).
The one thing i do not wish to have however in this species is overly-sexualized shadowsonas or 'femboy trash shadowsona's' with overly wide hips, as i find this personally to be a sexualization of gay/transgender people, making those people a lust object, which to me personally feels wrong. Please keep it in mind and stay respectful of that! Gay and transgenders are not there for your fantasy kinks.
- Legs
Im putting this up to explain why in the above picture it is shown that their legs are not separated.
This is a pure artistic choice of mine, as i simply think it fits the species more and looks better on them that their legs are 'fused' down to an almost genie-like end! Hope that explains it well enough

---------------------------------------------------------------------------------
OTHER INFO:
Here's some other info/trivia that didn't fit in above, but is useful/important to know on the species! If you do still have more questions of course, dont be afraid to ask them!
- Relationships
Shadowsonas CAN form a relationship with another shadowsona. They dont quite fall in 'love', but they do feel deep attachment. If it happens that two ( or more ) shadowsonas feel attachment to one another, they can be often found staying together on their trips around places, or staying together in one set place.
Shadowsonas whom trust another shadowsona well enough and feel affection to their 'other half' so to say, can fuse their tendrils together and transfer feelings of bliss and happiness to one another.
This can only be done if both sides agree on doing this however, and if they willingly allow these feelings to flow trough their bodies. If they do not however, they can simply block it out.
Shadowsonas do NOT form relationships with humans at all. They have a natural dislike of humans, hence why they like playing tricks on them or enjoy causing them trouble. This does not mean however a shadowsona wont ever do anything for a human of course. They do have a feeling of righteousness, so should they find a human in trouble or a bad situation, they can still try to help out of course.
( Side note: Im okay with kind shadowsonas, but its an uncommon thing to happen so try to keep that in mind should you own a shadowsona! )
Of course they dont have a problem with animals, and they wont attempt to harm them.
- Nutrition
Shadowsonas do not have skeletons or any digestive system/organs. Therefor they dont need any nutrition to stay alive.
-----------------------------------------------------------------------------------------
ARE THEY AN OPEN SPECIES?
- No. They are however semi-open. This means you are able to obtain one trough adopts, or get a MYO ( make your own ) slot.
-Prices-
Adopts: 15 - 20 EUR / 1500 / 2000

depending on how complex it was to make the design
MYO slot - Normal shadowsona
15,- EUR / 1500

MYO slot - White shadowsona
30,- EUR / 3000

Once you have a shadowsona, you may feel free to change its appearance as you see fit from your custom design. They are shapeshifters after all! You just simply cannot make them white, red or grey as a basic color when having ordered a normal one. Also, be sure to credit me for the species should you make art of them! I'd love to see your work with them and i will always fave it.
You cannot make adoptables of these yourself of course, and i also do not do co-ownerships of the species. Hope you can understand!
--------------------------------------------------------------------------------------
If you have any questions feel free to ask them! Im not super hard when it comes to closed species, and like to keep them as fun as i can for people. The reasons why i had to close the species down is due to people not reading up on them properly, and going as far as to making 'slutty' shadowsonas and even giving them human relationships, while others made extremely 'emo' based or 'insane' type shadowsonas.
I've had watchers even blatantly copy them before which, naturally, sucks so yeah. I dont want them to be ridiculous as in having 'super rare' traits or anything either, and have them be accessible to everyone.
Below are some example of previously made shadowsonas! I have way more designs made but the artwork for them is VERY old, and safely hidden in my files.