As I'm sure you have all noticed, I have been adding sections to my Gallery that are not my usual Illustrations. They are examples of the freelance and hired work I have done over the last 10+ years. I have a lot more than what I uploaded of course but I wanted to show some of my favorites...

Don't worry, I'm working on some more Illustrations too for sure! I share with you a sketch of my next MLP Human Series as an example...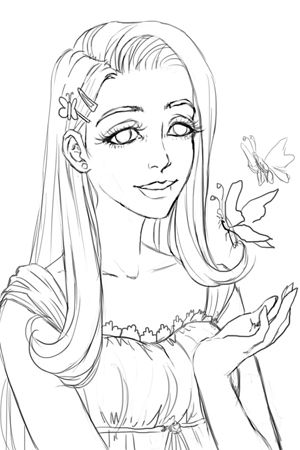 I want her cloths to be super feminine but somewhat modest as she is a shy little lady so her peasant blouse will have some delicate lace trim and the bodice will be made of embroidered floral eyelet style materials. I may change the sleeves to be more fluttery cap sleeves rather than just ruched gathers as I am feeling the lack of 'flutter'...

Her hair clip is, of course, her cutie mark while the butterflies hovering over her hand will be much more realistic than the sketch implies. I've tried to capture her gentleness with her expression.
I'm really excited about her and I hope you are too...

Stay tuned for more of my professional artwork and a few pencil drawings that I never uploaded!