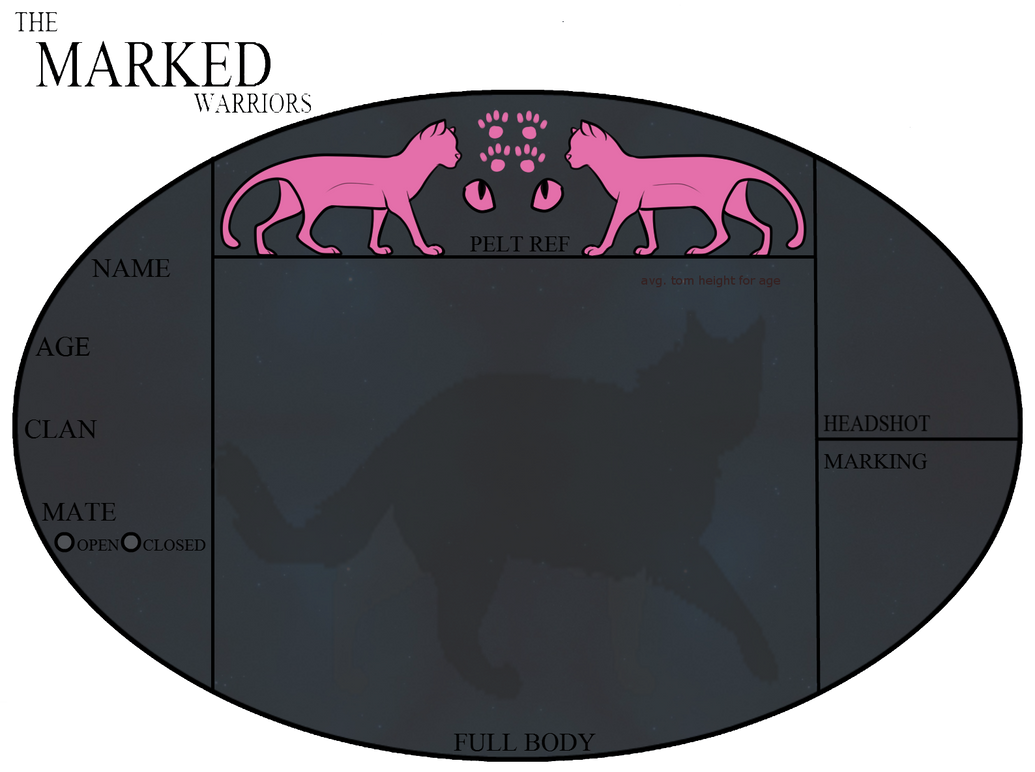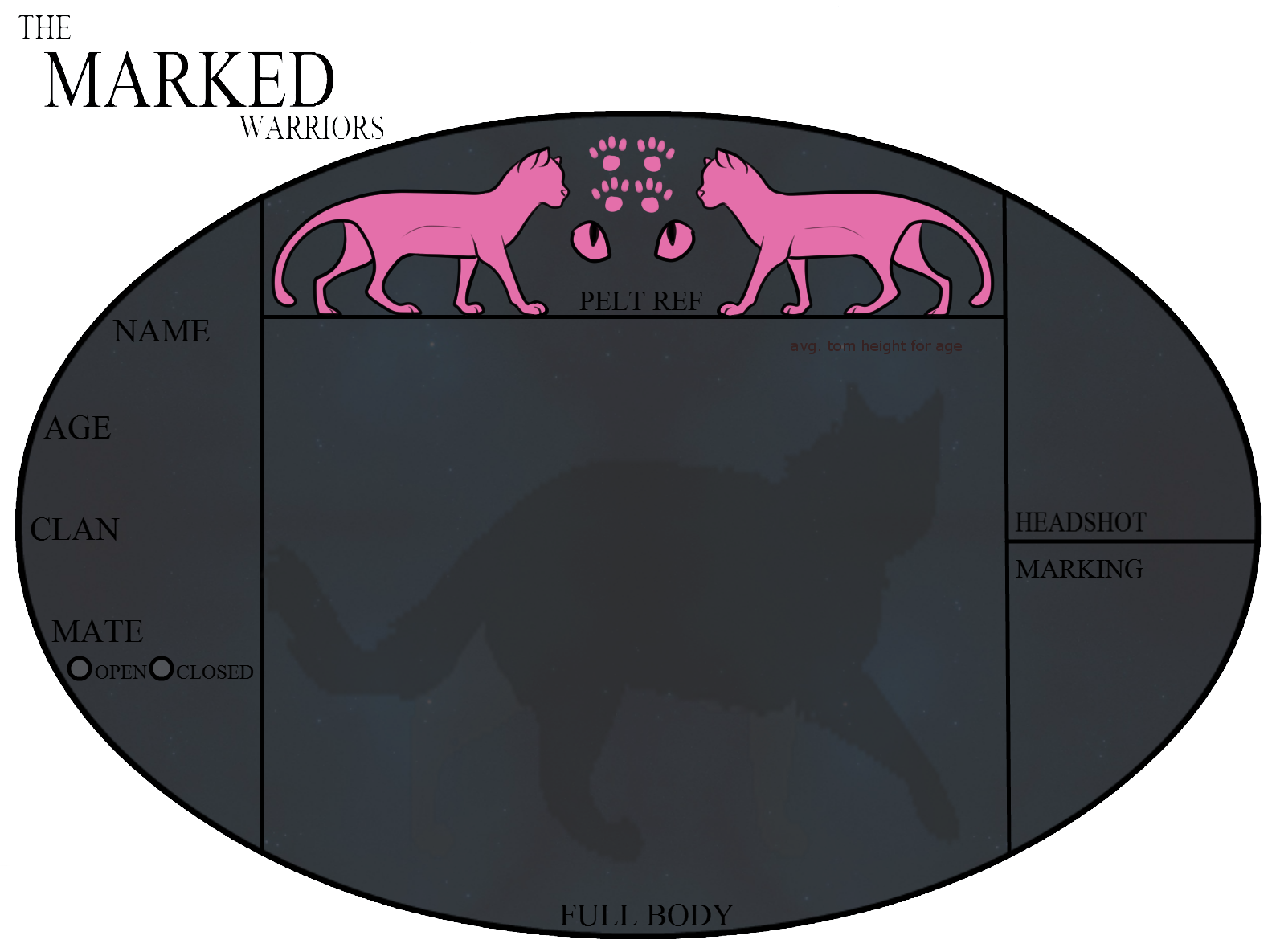 Watch
Downloadable as a PSD file or PNG file, choose whichever you like, though PSD helps to fill out the pelt information. Please fill every aspect of this application out. Please be sure to show the character's marking either on the front/back pelt design, headshot, or body pose.

Hey guys! The average male cat silhouette? It goes by your character's age! So, if your character is a female apprentice, draw her compared to the size of an average male apprentice! :3



APLLICATION INFORMATION

NAME> Pretty self explanitory, just type in the name you desire your character to have. Remember, this is a Warriors roleplay group, so names go as so;
- Kits; ex. Reedkit.
- Apprentices; ex. Reedpaw.
- Warriors&Up; ex. Reedshadow.
- Loners; ex. Reed.
GENDER> Male ( Tom ) or Female ( She~cat ) ?
AGE> Fill the age in going by moons. ( 12 moons makes a year! )
- Kits; 0-6 Moons.
- Apprentices; 6-12 Moons.
- Warriors&Up; 12-96
-Elders; 96 - 168 ( 168 being 14 yrs of age, most die. )
RANK> Just put the desired rank of your character.
MATE> Fill in the desired circle of your character.
FAMILY> Fill in the names of your character's mother and father. ( May or may not be NPC )

SIZE COMPARISON> Not many cats over the size of an average male will be accepted.
PELT> This is a very important part of your character's design; if not filled out, your character will not be accepted, as it would be vital for others to use this when drawing your character.
HEADSHOT> The box overlaying the pelt box is used for a headshot of your character.
FULL BODY(S)> Your character must be drawn posing for it's viewers. Have fun with this! ;D

---
WRITTEN INFORMATION
Seeing as we are a literate roleplaygame group, it is expected for your character to have an organized application, including the following. You are indeed allowed to become creative with this and add more to it/change the layout of the written form of your application! Just be sure to have what is required.
Know that we ABSOLUTELY LOVE when people are overachievers and do more than what we ask for when it comes to written information! We like to be able to scroll through things for a while and see how well-developed your cat is!

NAME:
AGE:
GENDER:
CLAN:
RANK:
MATE:
MARKING:

PERSONALITY: ( Give your character at least four different personality traits that go along with their marking! Add detail ( about 5-7 sentences ) about each one. Remember that your character's marking goes along with it's personality. )
HISTORY: ( At least one-two paragraphs ( 5-7 sentences each ) for each rank of their life or more! )
RELATIONS:
mother -
father -
siblings -
mentor -

RELATIONSHIP STATUSES:
Use as many symbols/bullets/colors as you want.

ROLEPLAY EXAMPLE: ( Not required if you already have a character. May be from other groups/roleplays. )

---


CREDITS!
Credit to the pelt design bases and the average male cat height silhouette goes to

=

fallen-kitty!
Credit to the rest of the application goes to

~

faifers!