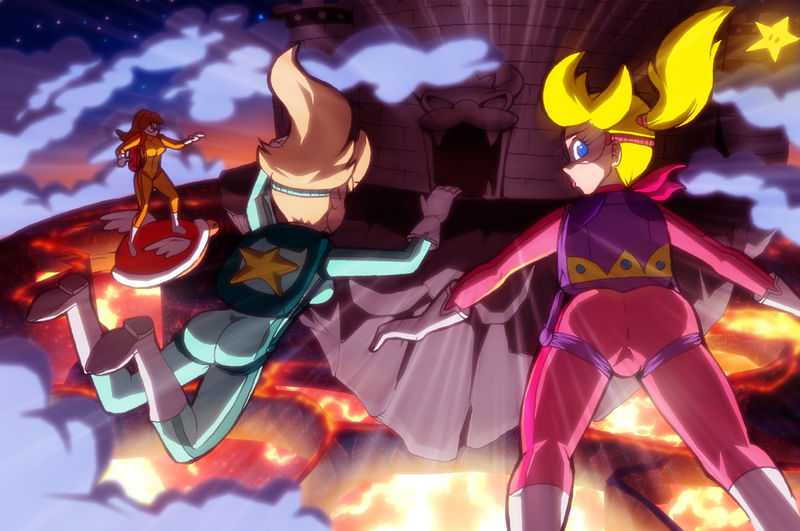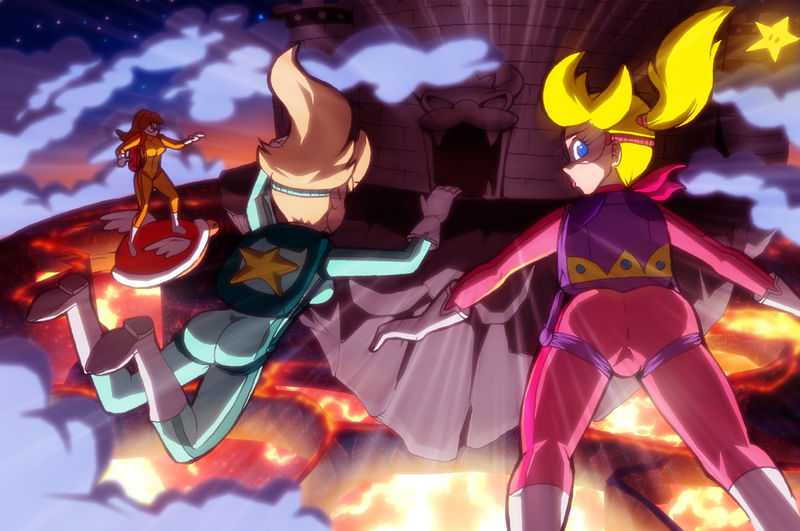 Watch
Commission for

*Codec Beeps*

: This is Snake! Do you read me?

Loud and clear!

: What's your status!!!

..........Peachy!
*rock music plays in the background*

According to intel. The brothers are somewhere in that castle. Since this "Bowser" character has got rid of all the power-ups, you'll have to rely on your wits and skills that I've taught you in order to save them.

Alright!

Target dead ahead!

YAHOOOOO! LET'S DO IIIIIIIIT!

I'll leave ever... to.. *static*

Snake? Do you read me? Snake? SNAAAAKE!

Looks like we're on our own.

Right! C'mon, girls! Let's get Mario and Luigi out of there!!!
--------------------------------------------------
A pic of the three Nintendo princesses stormin' Bowser's castle. I hate to be the king of the Koopas when he find out what the girls had learned under Snake's tutelage.

Characters are (C) under Nintendo.

So what is this, 🅱️ortnite 🅱️attle 🅱️oyale and 🅱️nuckles
Reply

I like it. Do you think you can make one that their chutes open?
Reply

This was a commission. So unless I'm paid to do such a pic, it's highly unlikely...

Reply

Pay with what? I'm broke.
Reply

Reply

So what can I do to have my request? Besides paying?
Reply

I'm not doin' free request anytime soon. Not until I shrink my commissions quota to where it's almost done.

You also have to win a mini-game that I host from time to time...
Reply

Where have you been? You have not answer the question.
Reply

Sorry.

I had run mini-games in order for people to get requests from me, but I've been to busy to run them. It's the only way since truthfully I just don't give requests because someone ask me... unless someone has done somethin' HUGE for me.

Once my commissions drop to where most of them are finished, I'll run the games again.
Reply
(1 Reply)

Reply

Reply

Reply

They learnt how to hide in a box

Reply

Super Princess Peach 2 is a lot edgier, and sexier.

Nice.

Reply

Snake affiliated with Nintendo's princesses? Reminds me of Smash Bros Brawl. Although he just gestured to Peach and Zelda to stay put, and they didn't.
Reply

Well, they got no choice now. This is the battle of their lives.
Reply

I've never played a Metal Gear game, but Snake doesn't seem like the kind of guy to sit in a command room on the sidelines.
Reply

Reply