If I would have nine lives,
maybe in one of them,
I would smile to a star called Desire,
which appears from time to time on the sky of an unknown planet,
to make life brighter.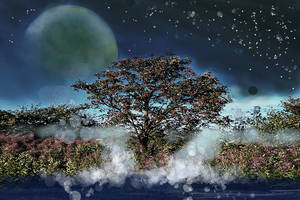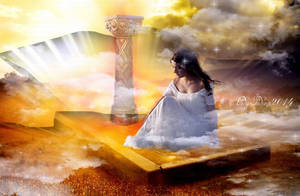 With eight lives, I would think I'm so rich,
that I would be able to find that wonderful legendary golden dragon
and with generosity,
maybe he would protect me from emptiness.
With seven lives,
I would be so proud by my beauty,
that maybe I would forget
that you can not live so long without having a doubt.

With six lives,
I would turn the ashes of the Universe in diamonds
and maybe all known or unknown eyes,
would see the light.
With five lives,
maybe I would discover from where springing the rainbow
and I would catch roots
in an certain Tomorrow.




With four lives,
maybe I would be very selfish
and I would believe that my heart can sing
and that song could stop time passing.






With three lives,
I would dream that my insanity was cured
and maybe,
I would be able to learn to love.





With two lives,
I would start to appreciate my mortality
and maybe,
I would find the meaning of rest.





With one life,
I just try to find my wisdom,
to be able to understand that nothing lasts forever
and time flies no matter what...




Thank you very much to all who will visit and appreciate my presentation and don't forget about the beautiful Contest held by

Group

The Colors of Renewal 2014

Contest The Colours of Renewal 2014 CLOSED:icontransparentplz:
:iconthefavouriteshowcase:
Contest - The Colours of Renewal 2014*
Hello to all members of

TheFavouriteShowcase


As usual, as we celebrate our anniversary (4 years

now) the time for our contest has come!
It's the renewal season, after a cold, damp, grey Winter (I know, not in the South Hemisphere - but you continue to have good weather there so you will be with the right mood to participate too).
Let's welcome the Sun, the blue skies, the warm weather with our annual contest "The Colours of Renewal"!
What do I want to see on this 4th contest?
The same as the previous years:
Vibrant colours! Warming sensations! Brightness! Joy!
Again we are welcoming "The Colours of Renewal" and you can participate with Traditional Art, Digital Art and Photography.
Only members can participate, so if you aren't a member just join us.
Take in consideration that this is a contest - to be fair, YOU (who are participating) have to vot


I wish you all much health, a beautiful day and some wisdom to face our beautiful world.