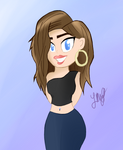 Serena Foxx



Artist | Hobbyist | Varied
Just a weeb who likes to draw cute things. Oh and 90's Sonic cartoons, anything by Nintendo, everything inbetween and memes. All the memes. I have no shame.


Je parle français, principalement le français parisien en ce moment, mais j'essaie aussi d'apprendre le français québécois~

Yo también hablo español, soy un principiante pero me encantaría practicarlo más aquí en DeviantART~

Och jag talar svenska också~
Feel free to write to me in any of these languages, if it's more comfortable for ya~
Have a nice day.










DO NOT repost or heavily reference my works without crediting me first. HOE DON'T YOU DO IT.

And ABSOLUTELY NO TRACING OR RECOLORING MY STUFF. NYO. BAD.
seriously though, it not only makes you look lazy but it's disrespectful to the original artists, plus if you keep doing it you'll never improve... so put some love in your art and give it your all, everyone!!



Also, sometimes I can be very blunt and I'm not the type to sugarcoat things so I may say things or post content that others may find offensive, I do apologize for this in advance. YOU HAVE BEEN WARNED.










little-miss-geeky.tumblr.com

SerenaFoxx#8262

www.instagram.com/serena_foxx_…

www.youtube.com/channel/UCedGk…










:thumb619045843: