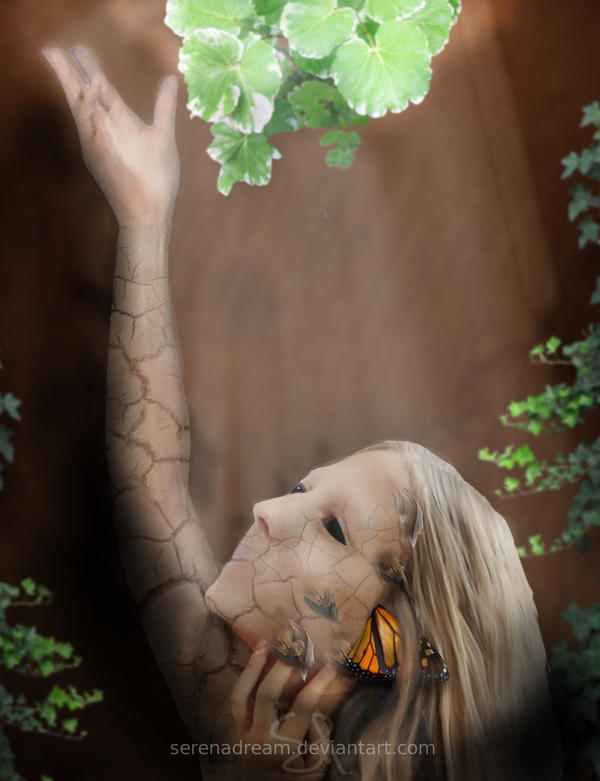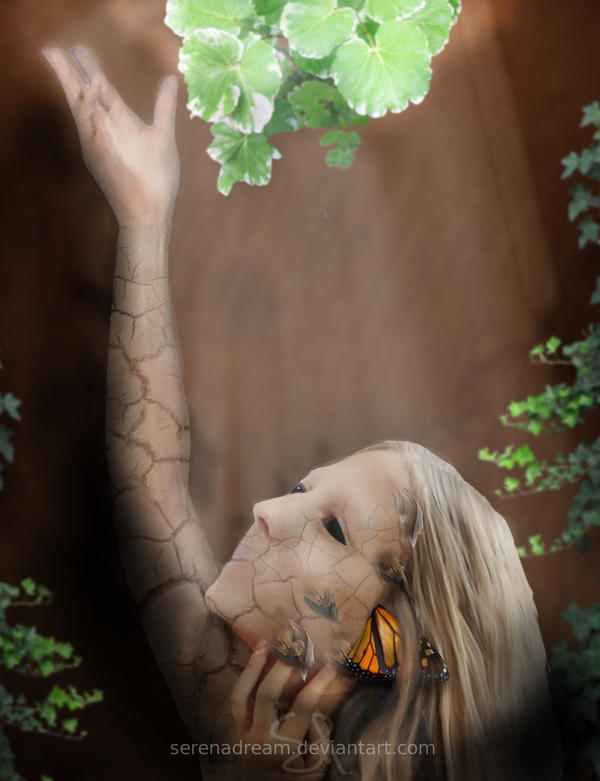 ENG:
This is my entry for
Out of the box
contest.
I'll enter as a beginner. Wish me luck!

Here you can see a short backstory. Enjoy! (if you find any grammar mistake, tell me please

)
Doctor
"Experiment X.
It was a failure. Again. My goal was to create a "super-human". I wanted to give it the ability to fly, so I combined its DNA with a butterfly and a bird's one, but now it has feathers on its face and it has butterfly wings on its ears. I wanted to give it the ability to live by photosynthesis, without the need of food, but now it needs constantly water,or it will dry up and die in no time... But this is the first time I created a creature from my DNA that can live and breathe and perhaps it can learn to think like I do. For now, I will keep it in the basement for more in-depth studies."
X
"Dad comes everyday to see me, but he always shakes his head with a sigh and then he goes away. I love dad, but I can't tell him: I have no "mouth". I don't think he loves me too. He always do some injection that make me feel bad. Those stupid "experiments"... That's why I decided to go away and leave my room. It was hard to get through the bars, so I digged a hole and I went through there. Dad I love you, but I don't want to be a burden."
Doctor
"Today I found out that Experiment X has escaped from its prison. That's surprising, since it showed no sign of intelligence. It became totally blind after living in the basemente for a long time. I wonder where X will go..."
X
"I didn't know where I was. I was freezing and I was so thirsty, but I kept digging. Finally I found water next to something with a lot of smooth things. Maybe it's a "plant" with "leaves". I also felt my skin a bit warmer. I can't see, but I think I found "light". Perhaps that "light" comes from the "sun". I don't know why I know all these words, since I can't read and dad didn't taught me anything. I don't care. For now, I just want to go out to the warm light."
ITA:
Questo è per il contest
Out of the box
.
Entrerò nella categoria "beginner". Auguratemi buona fortuna!

Di seguito trovate una piccola storia che si cela dietro a questa immagine. Buona lettura.

Dottore
"Esperimento X.
Ho fallito. Di nuovo. Il mio obiettivo era quello di creare un "super-umano". Volevo dargli l'abilità di volare, così ho combinato il suo DNA con quello di un uccello e di una farfalla, ma ora ha piume sul viso e ali di farfalla sopra le sue orecchie. Volevo dargli l'abilità di vivere con la fotosintesi, senza il bisogno di cibo, ma ora ha costantemente bisogno d'acqua o seccherà e morirà in poco tempo... Ma questa è la prima volta che genero una creatura dal mio DNA che può vivere e respirare e, forse, può imparare a pensare come me. Per ora, lo terrò nel seminterrato per studi più approfonditi."

X
"Papà viene tutti i giorni a trovarmi, ma tutte le volte se ne va con un sospiro, scuotendo la testa con disappunto. Amo papà, ma non posso dirglielo: non ho la "bocca". Non credo che anche lui mi ami. Mi fa sempre qualche iniezione che mi fa sentire male. Quegli stupidi "esperimenti"... Per questo ho deciso di andarmene e lasciare la mia stanza. Era difficile passare per le sbarre, così ho scavato una buca e son passata per di lì. Papà ti amo, ma non voglio essere un peso."

Dottore
"Oggi ho scoperto che Esperimento X è scappato dalla sua cella. È sorprendente, dato che non aveva mostrato segni di intelligenza. È diventato totalmente cieco dopo aver vissuto a lungo nel seminterrato. Mi domando dove andrà..."

X
"Non sapevo dove mi trovavo. Stavo congelando ed ero assetata, ma ho continuato a scavare. Finalmente ho trovato dell'acqua vicino a qualcosa con un sacco di superfici lisce. Forse è una "pianta" con le "foglie". Ho anche sentito la mia pelle riscaldarsi. Non posso vedere, ma credo di aver trovato la "luce". Forse "luce" che viene dal "sole". Non so come mai conosco tutte queste parole, dato che non posso leggere e papà non mi ha insegnato niente.
Non mi interessa. Per ora voglio solo andare fuori alla calda luce del sole"

CREDITS

Model by

Feathers
by

Background
by

Arm
by

Texture
by

Leaves
by