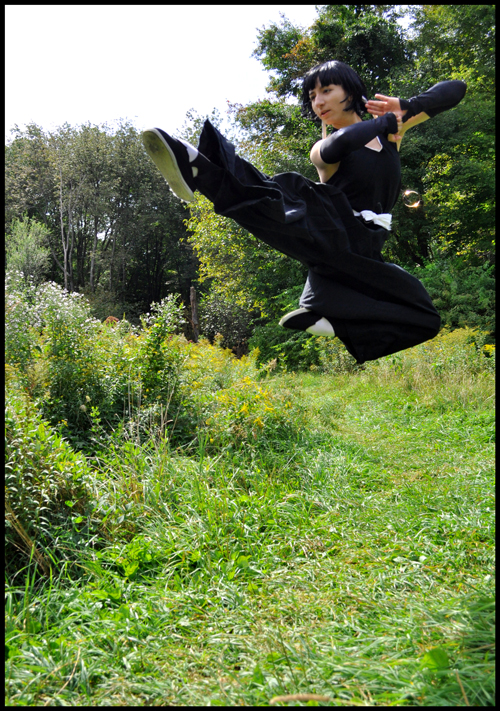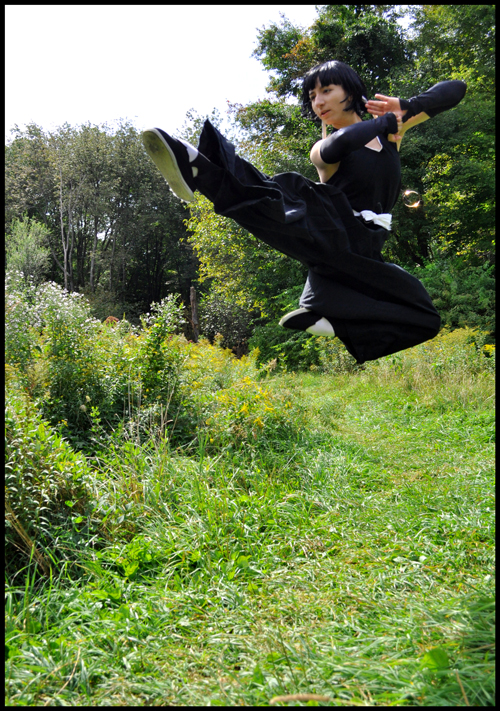 Watch
I found this when I was going through some old folders. Soi Fon, flying through the air

photography by

costume, cosplay, and editing by

-construction notes-
The pigtails are the nylon core of a rope with pre-made bias tape woven around them. At the ends there is embroidery floss in a loop holding up gold bangles.
The sleeves were cannibalized from an old unitard.
I made up some sort of pattern out of thin air for the halter top out of muslin before making it for real out of the black stretch cotton, but really it's a miracle it turned out as well as it did! I purposely made it a little more modest than Soi Fon's real outfit.
For the hakama I followed online instructions for a costume hakama provided by someone awesome on deviantart. It's been so long I don't remember exactly who. It may have been ~Midnight-Zephyr.
Soi Fon doesn't wear the normal shinigami sandals, she wears tai chi shoes. layered white socks with black socks cut to a stirrup shape and bought tai chi shoes.

Reply

woohoo! props props! XDD

uwaaaa that was such a fun shoot! we should do more sometime <33333
Reply






we should! We'll have to take a couple pics at NYCC at least

Reply

wow this is great pose. costume. and photography! nice motion photography!
Reply

Reply

your very welcome! did you get tired from doing so many jump kicks?
Reply

haha, not very. I had recently been taking martial arts classes so I was used to it!
Reply

I may have given it to you...I remember having one around here at some point.

Darn it, now I want to go find it.
Reply

Wha, how did you?
Geez, you're quite the athletic when it comes to cosplay. Most people would just sit down and look at the sky or something, but you're over here leaping into the air. Fantastic

Reply