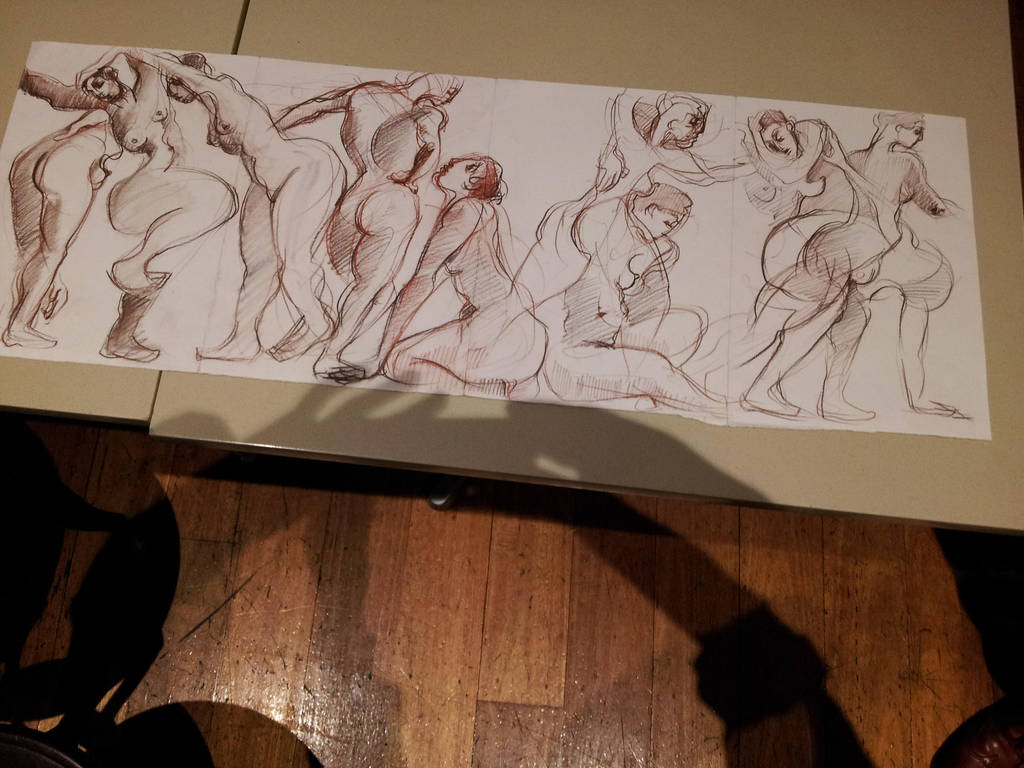 Recent drawings of me by Petros Hovaghimian @ Arthouse Hotel Sydney
I'm sorry for my long absences, DA. I'm sorry if you've missed me. I've certainly missed some of you. However I might be able to make up for it with a potentially exciting proposition...
Would you like regular, thoughtful,
handwritten
correspondence from me? Yes, letters! In the post!
In an attempt to enable me to continue modelling I am offering meaningful handwritten correspondence as 'rewards' to those willing and able to offer me regular financial support via Patreon.


How would this play out? I'll invite you, if you like, to write to me first, email is fine if you prefer, tell me about anything you'd like to share with me, your life, your art, your struggles and achievements. Then I'll reply, I'd love to be witness to your life and creations. I think there is great value is having one's experiences validated/witnessed by another, particularly the experiences of one creative by another creative. I humbly offer you this in exchange for your financial support.
I will paste in my spiel from my Patreon page, below. I just launched it today

Here's to being able to afford to keep doing what I do best and what people would love me to keep doing.
If you can afford to and are willing to help support me and, in turn, support the life drawing/sculpting/photography community of Sydney, the extent of my gratitude would be beyond words.
My spiel:
I've been a professional artist's model for over 10 years now. It's a job I love. Unfortunately, in Australia at least, there's just not a culture of paying life models a wage that makes life modelling a job that one can make a living from.
And that's a shame, because, without meaning to blow my own trumpet, Sydney artists and art students really seem to love and value my work, such that when I occasionally stop modelling to try and get a 'real job', so I might actually be able to afford to leave home one day, they look genuinely upset and say things like "It's such a loss!!"
And it seems sad that I
love
modelling for them and they
love
having me model but because the average pay-rate is more suited to a job where you work an 8 hour day in one place, rather than a job where you travel for an hour or more to work for three hours, then travel another hour to then wait around for an hour to work another job for 3 hours. And then if you don't mind not doing anything else with your life you'll do it again and not arrive home from work til 10:30pm or later. After a year of this, taking into account that the bulk of your work dries up over school holidays, you end up making about $25,000 before tax.
(Note: I don't just sit around during the holidays, I try to find more work. I've been lucky enough to have gotten Christmas casual work in some retailer's stockroom for the past 3 years. That helps to tide me over until modelling picks up again in February. However it means that I can't model for the last few months of term, but I can actually make more money doing a crappy casual job for a couple of months so I accept it, even though it drives me a bit crazy and I'm then burnt out for the rest of the year and find it hard stringing sentences together.)
As it is I can't afford to move out of home in Sydney, not unless I wanted to do the share-house thing with a bunch of strangers and as a lass in her 30s I think no. I can only just afford to have cats, let alone kids. I'm not asking for much money. I'd simply just like to be financially independent, like a 'normal' person with a 'normal' job.
"Why don't you get a normal job then?"
Oh I do try that occasionally. Two things tend to happen:
1) Artist's all over mourn the loss of me. True.
2) I go a bit crazy. Like seriously. Most who know me would have no idea that I have a dissociative disorder (DID) and see a shrink weekly to keep my noggin contained. And contained it generally stays, especially if I'm modelling; modelling in fact, seems to be exceptionally good for my brain. I get to be still, quiet, move my body in ways that feel almost as good as a yoga class, and get to be surrounded by amazing people doing what they love; creating art and teaching others to create. It really is a very special job. Oh and I get to be naked and hang out with cushions and blankies and heaters, I totally love that part of it as well! Very comforting for a frazzled brain.
So yes. Here I am. Laying myself at your feet (in an interesting pose of course, you have five minutes to capture it) requesting that you consider supporting me such that I can continue being the model that I am that you seem to appreciate.
In return I offer meaningful handwritten correspondence. Yes, letters. In the post! I invite you to talk to me about your life, your creative process, what's working, what's not, and I will thoughtfully reply.
I am cooking up more ideas for rewards as I type and I'm open to suggestions! So do be in touch. Some other reward ideas I'm toying with include:
- Images of work of me not shared elsewhere.
- Special features of work of me done by my patrons on my website/Patreon page.
- A monthly sketch group in Sydney, free for my patrons.
- My artwork/creations.
- A handwritten thank you card. And maybe a chocolate...
With humble thanks and love,
Jo.