Guide to Not Looking Like A Disgusting Geek by Cleaning Up Your Facial Hair
By Serain.
I was getting dinner, minding my own business, when a group of loud obnoxious disgusting geeks drew attention to themselves in front of me. They laughed at their own jokes, spewed internet memes every other second, and talked about webcomics. Now, this already puts them in the "do not date" category, but I really would have given them a second chance if they didn't have a huge flaw:
disgusting facial hair
.
Now, if you look around a college or highschool campus, teenage males will probably be sprouting facial hair right and left. There are many ways to manage it, and many different facial hairstyles. HOWEVER, that doesn't mean you are suited for any of them, or that you'll even look passable.
Back to my predicament. The geeks (and I don't mean geeks in an endearing way) ability to draw attention to themselves led me to believe that guys who fall into the category of disgusting geeks have no idea that they are, in fact, disgusting. Cleaning up your facial hair is one easy, inexpensive, and usually painless way to make you look less repulsive and more attractive to the opposite gender.
So I have written this journal to provide a few guidelines.
Part 1: Rule of Thumb.
If you have a defined jawline, it is okay, perhaps even attractive, to have jaw hair.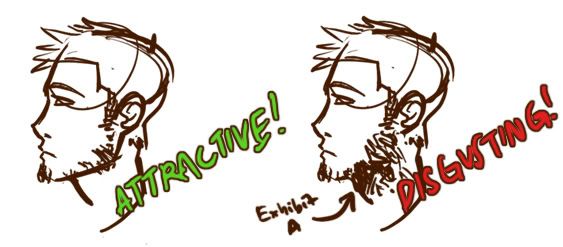 If you don't, then DON'T. If you have a round face, DON'T try to generate a jaw line by shaving your facial hair in such a way. It'll look ridiculous.
Exhibit A:
Neck hair. Neck hair is repulsive no matter who has it. If you are to have facial hair, keep it on your face. Neck hair makes you look like a caveman, or a hobo. And I honestly haven't seen many girls vying to date hobos.
Part 2: How to Look Like A Lazy Unkempt Computer Nerd
It's easy: You can not shave.
You can easily do it by growing out your facial hair, or having baby fluff on your face and refusing to shave it off.
Exhibit A:
Many, many asian males are guilty of this. As they can only grow thin hairs in general, they tend to ignore it if it somehow is growing. It comes in this type, which I like to call fluff, on the corners of their mouths. And it makes you look lazy and disgusting. When my cousin started showing this, I managed to avoid making a mention of it for two months, then I couldn't stand it anymore and badgered him hour after hour to shave it off, until he did.
Exhibit B:
Many white males are guilty of this, which is forgoing shaving entirely. Facial hair punishes this by building up everywhere. On their neck too. By god, at least, please, please shave your neck. And then shave the rest of it off too.
Part 3: So You Have Curly Hair
Good for you! Many people think curly hair is very attractive.
Please don't ruin it with a revolting beard - unless you keep it short, in which it is okay.
Part 4: Conclusion.
It really depends on the type of face you have to show if you can pull of facial hair or not. I know many girls who don't like any kind of facial hair AT ALL, and some who think a little bit is attractive, but I'm afraid I don't know any who crave heavily bearded men. In order to be safe, just shave it all off. Facial hair is simply not fashionable in this day and age.
Disclaimer: This guide was written for comedic purposes only. Also, not to be pretentious, but I saw several examples of all of these within the half hour I was at the school dining court for dinner. None of these people ate with any persons of the female gender.
-
Sketch Requests (getting finished, just need to be scanned)
1.
R-Amythest
"sketch/whatever of Ike and Soren doing something interesting and original"
serain.deviantart.com/art/Cold…
2.
3.
4.
5.
-
-----

Coloring Tips From Serain

Serain's Cloud Journal
-----