THANK YOU SO MUCH FOR BIDDING EVERYONE! I REALLY APPRECIATE IT! <3
Hello! It's been so long since I open commission! I want to squeeze in one commission for this holiday season.
I will be able to finish it before the 18th because we're going out of the country til the New Year. Only 1 slot is available, sorry!
SLOT 1: (1) CHARACTER
HALF BODY (FULLY RENDERED) WITH SIMPLE BACKGROUND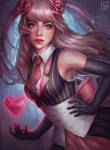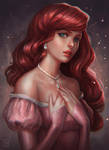 ★ Females only (preferable fantasy characters with details)

★
I draw: Humans, humans with animal features

★ I don't draw: Gore, R-18, Mecha, Anthro


BID ON MY "BID HERE" COMMENT
STARTING BID: $60

MINIMUM BID INCREAMENT: $5
WINNING BID: $115 ShiningSiria
Note:
☆ For personal use only, strictly not for commercial use

☆ Pay within 24 hours of winning through Paypal

Deadline:
DECEMBER 12, 2015 12:00 NOON (GMT+8)