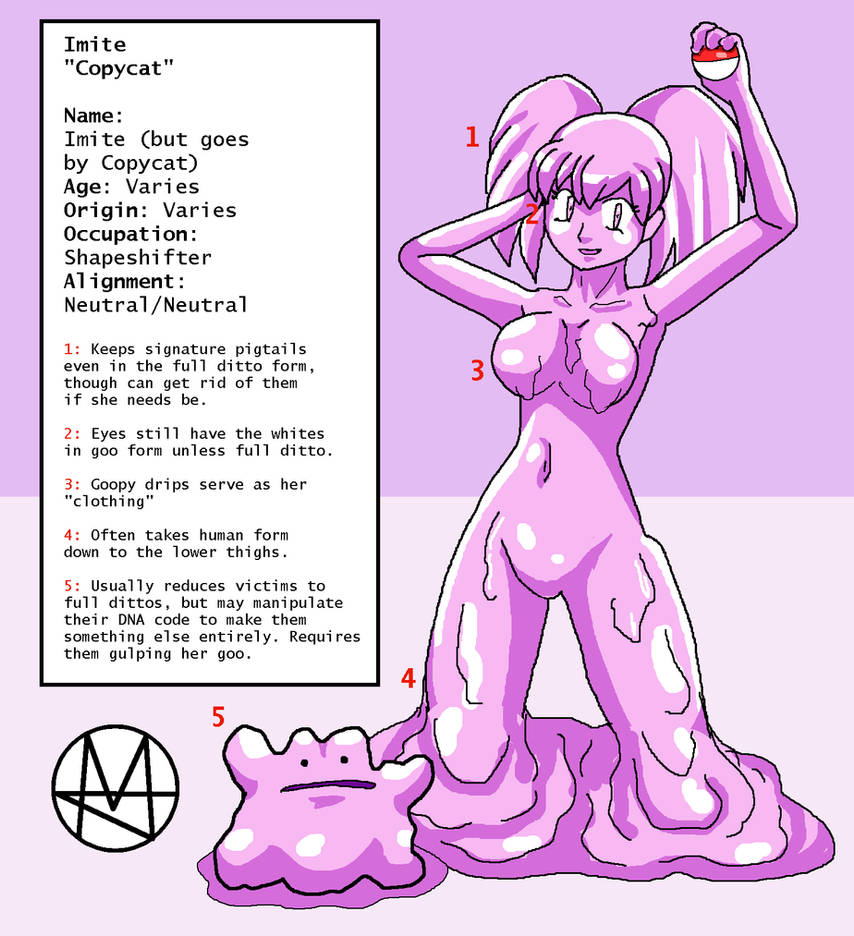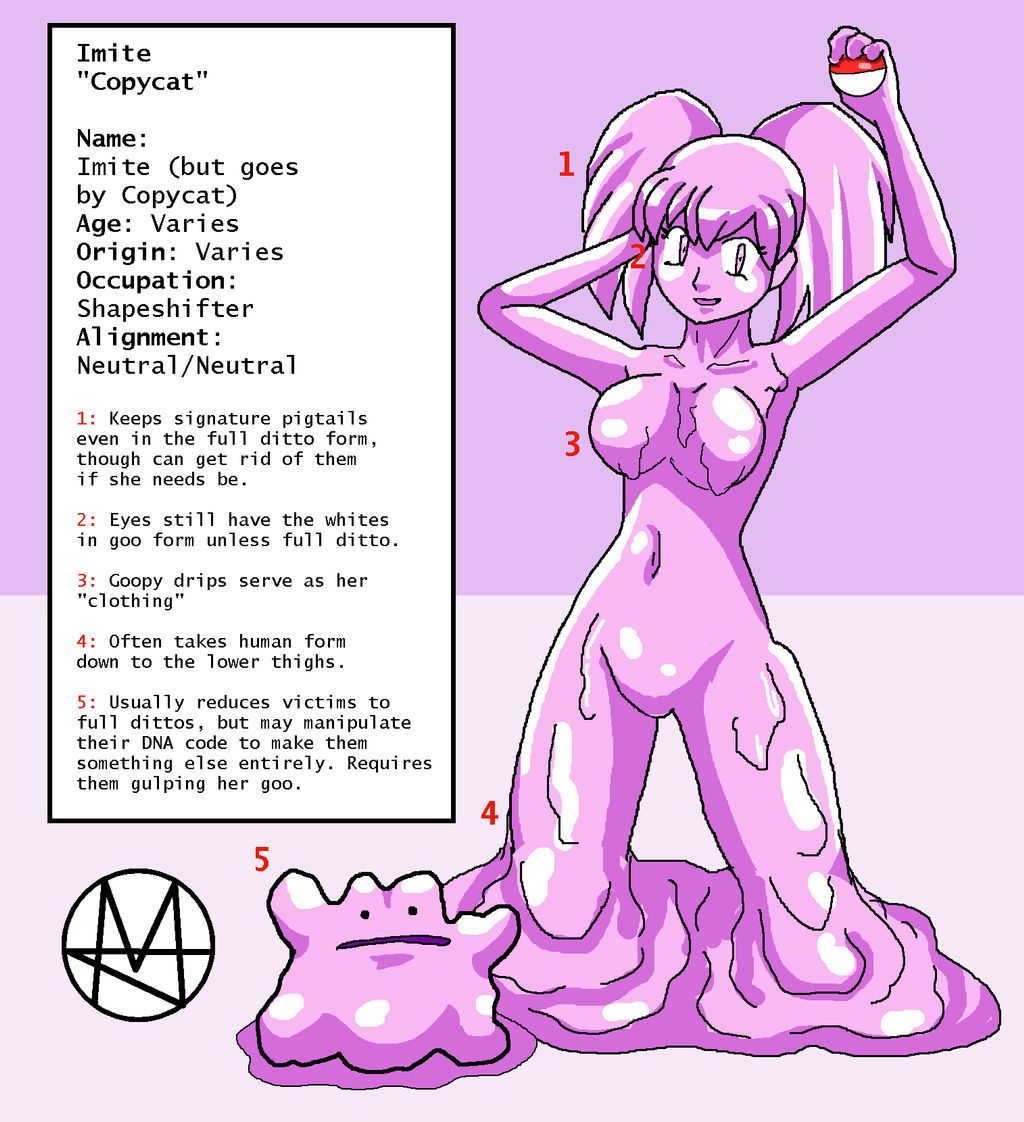 Watch
Imite
"Copycat"

Name: Duplica/Imite/Imi/Tate/Ditto
Age: Varies
Origin: Varies (Japan/Kanto originally)
Occupation:
Shapeshifter
Alignment: Neutral/Neutral

Former cosplayer and lover of imitation, she was transformed into a ditto during a training mishap with her own ditto. It took her a long time to get used to it, but it made her into a self-serving and fun-loving goo girl that lives up to the name "copycat."

Like a ditto, she can transform into whatever she sees. However, to achieve a perfect transformation, she requires "memorizing" the victim's DNA code, which she can gain upon touching them. She usually chooses to eat her victims whole to memorize their code and let them emerge from her goo as a ditto. She prefers this method so she can shift into them and live their life as a doppelganger as the real one is left as a gooey Pokemon.

Sometimes however she will let her goo flow into a victim and transform their code that way, leaving them as whatever she re-writes it as.

She is more Pokemon than human now, however, and does leave her vulnerable to things that can harm/capture Pokemon but not affect humans (i.e. being caught in a Pokeball). She also has trouble with groups, and often tries to trap her weak victims one by one. Despite her abilities, she is rather easy to escape if one is prepared.

She is considered a sort of urban legend and hunted by trainers everywhere.

---

Finally! Duplica makes a return! She can be the local goo character with fun shifting abilities among other things. She has some fun abilities but also made sure to note some downsides so we can have some fun drawing her.

She is not FULLY original, however, considering Duplica/the human shape she comes from was the anime appearance of Imite/Duplica. However, this is certainly an original spin on things and an original gooey monster of her. So she can go by "Copycat," her name in the game!

Feel free to ask any Copycat related questions below!

(Copycat is an original spin off of the game/anime character in Pokemon. The spin off idea/personality belongs to me, but the general base appearance to her original creator).

And say, am I allowed to use this character, I used it, she tried engulfing me, but I ice cloned out of it and freezed her, then let the ice melt by the furnace.
Reply

Reply

But I mean not to be offensive to you, but she's included on the Fetish Rating show called "America's Worst Idol", because of my hate of fetishes, but, I respect your opinion, because I no longer wanna start any fights.
Reply

Reply

Does she take on her normal human form sometimes?
Reply

Sometimes! But very rarely, since she enjoys being other things more.
Reply

She should if she want go after people like Misty and her sisters. They are easy targets, right?
Reply

They are, but Misty IS her friend XD
Reply

Why is she doing this anyways?
Reply

No real reason, she's a monster girl ditto that likes to have fun

Even if the victims don't see it that way!
Reply

Does she prefer Males or Females?
Reply

Have someone told her to stop?
Reply

Can she create tentacles from her body?
Reply

Reply

Have people called her monster before?
Reply

Nobody really gets a chance to

But she is technically one, yes.
Reply

Do people called her a Freak
Reply

They did as a human so probably!

I know you really want to know more about her but if I don't reply it's because the answer is already obvious or because there isn't more to say! Please be patient for future pictures instead of repeating the same post over and over. XD
Reply
(1 Reply)