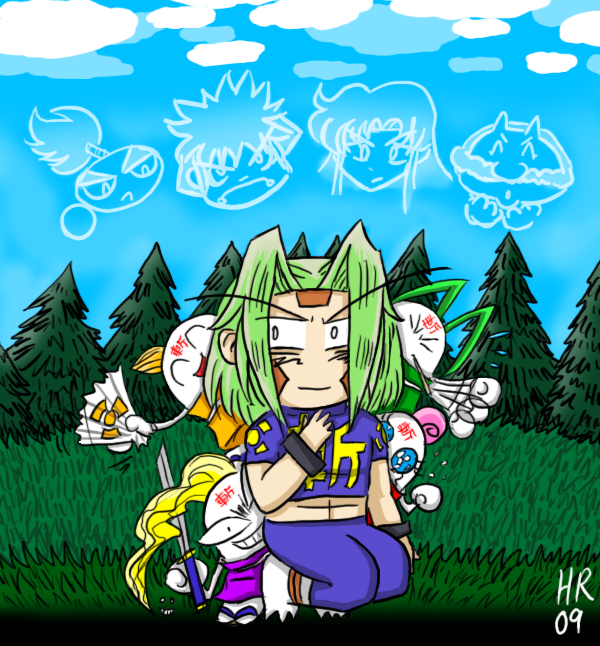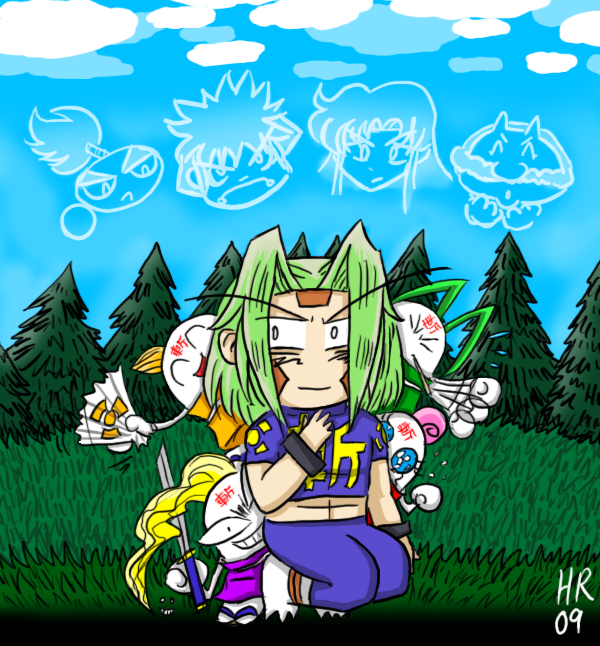 Watch
Hey guys, look what I did instead of the 2,000+ things of real importance that are
actually
on my to-do list.

*sulks*
If it looks like the kind of thing that usually goes on my website, that's cuz it started that way, but I got too involved in it to sequester it away there.
Several times, I narrowly stopped myself from adding the cheesy "rainbow special effect gradient" to the background. *whew*
Itakaro's face is weird because when I fixed it and made it symmetrical, it just wasn't as funny! His arm looks funny for the same reason. So I sacrificed some OCD for humor there...
Hatarino... has raided the candy stash. Tsujigiri + sugar = bad idea
ROKUDENASHI LOOKS FLIPPIN CUTE.

And, uh, the main four are
vengeful looking floating heads
for no reason other than I felt guilty that I haven't drawn the main characters really for a while... Eheheheh... So it looks kinda like Mario Kart 64 'Rainbow Road' back there (though more so when my trigger finger kept trying to add that cheesy rainbow effect)...
By the way, there was originally another element to this picture, which ended up not working out here, but is now in the process of being turned into its own pic... I liked it too much to trash it.
NOOOOOO I've got the long comment curse!!!!!! F***ing mummy's tomb I never should have went in there!!!!


Very Cool!

Reply

This looks absolutely brilliant and everything the way you drew the characters and the colouring and texture.
I just have no bloody clue what the hell is going on.

What, like, are the ninja gods frowning upon Seppukumaru and his minions for some reason?

Actually, Seppuku looks kinda cute here. O_o;
Oh! I feel like kicking someone!!
You know whooooo!
Reply

Aww, thankya!

Sorry for the epic late reply.

Ninja gods? I think it's just a
creepy
day for cloud formations, that's all.

And actually, I think Nyanko is hiding behind Seppukumaru out of fear of YOU! Does that make you feel warm and fuzzy inside?

Reply

I like the simple yet effective way you textured the trees, the vivid colour, and of course, Goemon's old-school angry-pout. Nice work.
Reply

Thank you!

If I don't use every color on the palette, I end up disliking my work for some odd reason. And Goemon's face is just awfully fun to draw (though it's easy to mess up and just end up with him looking stupid).
Reply

Reply

I love how you color. You're spiffy.
This picture is really cute, the Tsujigiri look adorable and the strangeness of the overall idea works well.
What is it with you and Seppukumaru+trees?
He didn't want to be a sportsman- he wanted to be... A LUMBERJACK!
Reply

Thankya, sis.

It's not so much Seppukumaru+trees as a unit (ha ha!), rather it's that I'm a fanatic for both so of course they're going to come together in my art... does that make sense?
And nope, I'm afraid there's no denying he wanted to be a sportsman.

Reply

Besides the fact that Itakaro's hand looks a little weird to me, I like this one a lot. The Tsujigiri look pretty nice overall. And angry Ebisumaru is always funny.
Reply

Itakaro overall was just a bit off in this one (even in his regular state, he's just a bit
off
anyway

)
I'm so glad you like it!

I enjoyed drawing it much more than the last who-knows-how-many drawings I've done.

Heheh, angry Ebisumaru is always too funny to be taken very seriously...
Reply

Even as far as Tsujigiri go, Itakaro looks pretty strange. It's the grin, it's gotta be the grin...
Reply

Ugghh...tl;dr

(j/k

)
Wow, this is a very nicely-done pic--so bright and colorful!

And I really was expecting a Mario Kart parody when I first saw the title--boooooo.

I would love to play a Goemon Kart!

Reply

Aww, sorry I mislead you with the title!

Actually there is a game where you can race as Goemon against other Konami characters (don't know anything else about it, LOL). That's not as awesome as a full-on Goemon Kart would be, though.
Darn, I'd like to draw that, but that would involve drawing KARTS! i.e., problemo!

Also, thank you!

Reply