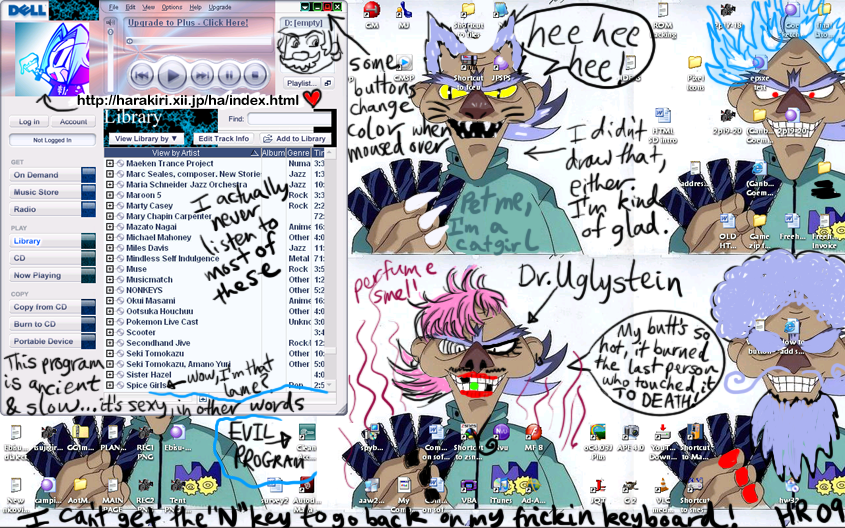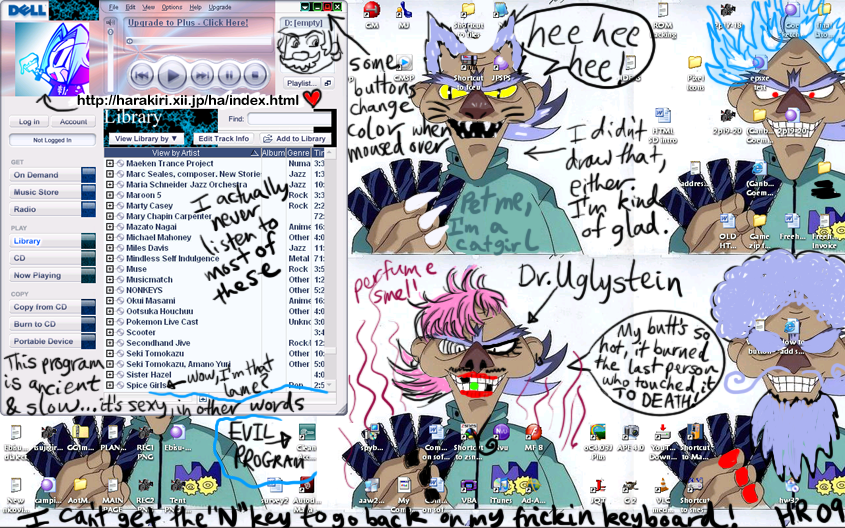 Watch
Made this the other day while I was doing classwork on my comp... of course I hardly touched the classwork, in the end. XD
Wasn't going to upload a desktop screenshot, but I accidentally opened Musicmatch Jukebox the other day... I forgot all about that program, hehe. And I saw the moldy old skin that I made for it, and since it's the only thing I've ever skinned (LULZ), thought I'd screencap it and share. Then I thought to just make it into a desktop screenshot, and doodled crap on it, so it wouldn't be a
total
waste of Deviation.
You can't skin the newer version of this program... And honestly, I don't know what the very latest version of this program is like, or if they're still making new versions.
I am perfectly capable of making a better skin for it, and changing more of it than I have... but I'm too lazy, since I never use this terrible program. XD Ah well, how often do you see a Goemon skin, even if it is a shitty one?
As a non-stealing type person it's my duty to mention that the Harakiri pic I used in the skin came from
[link]
, which is the website for a group that publishes godly fancomics which I can't buy. T-T Goemon fans get so screwed over sometimes.
The Mudanasty pic is the image of a cel that I took from
[link]
though I have no idea who the cel actually belongs to. NO, I do not usually have Dr. Ugly on my desktop, it's just that I constantly change out my desktop bg on the laptop, so it didn't matter too much. Besides, he's one character that I can abuse, and I won't get mauled by angry fans...

I think I scribbled out all the embarrassing filenames on my cluttered desktop, but if I accidentally didn't scribble out something funny,
please
, laugh at me. XD
Dr. Mudanashi & Seppukumaru © Konami
Mario © Nintendo
(I thought I was okay before, but apparently I need to go back and label all my pics with the copyright info

)
P.S. I can't figure out how to add this as a module on my page... bleahhh.

Heh, funny. I had a good laugh reading some of that.

And you're right, nobody cares about Mudanashi. Go ahead and scribble on his old, ugly face as much as you want.
Reply

Glad you enjoyed.

I liked the "scorching butt" line best, myself.
With this, I discovered that it was, in fact, possible to make Mudanashi
even uglier
... who knew?
Reply

Wow, certainly interesting desktop you got there - if not a bit cluttered.

Reply

Actually, it's tidy compared to what it looked like 2 weeks ago.

I've got all these installers, programs I only used once, expired free trials...

Reply

Skinning it was the only good thing about Musicmatch. What a fail program... Mudanashi is also a fail.
What makes you think you NEED to label copyright info on your fanart? Unless that's in an updated version of the terms of service, dA doesn't require it, and Konami/Nintendo don't give half a care about your fanart in your dA gallery. It's their duty to defend their copyrights, not yours. Since you used an official pic of dr. loser, it's good form to credit it, but copyright info isn't necessary.
Reply

You said it! It's a slow dinosaur. Mudanashi probably listens to all of his music on Musicmatch...
Official policy or not, I just got intimidated by someone's scary rant about why they hate people who don't credit fanart.

Sad... yeah.
Darn, it would have been comedic genius if I'd put a folder on the desktop labelled "Mudanashi porn"!
Reply