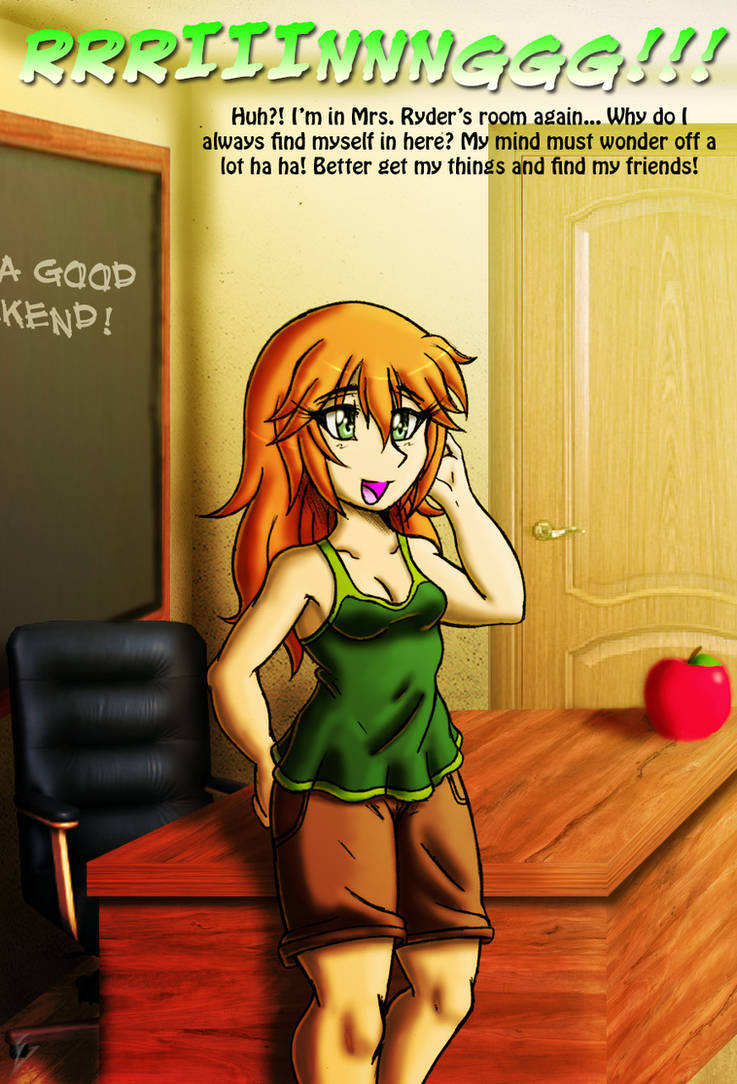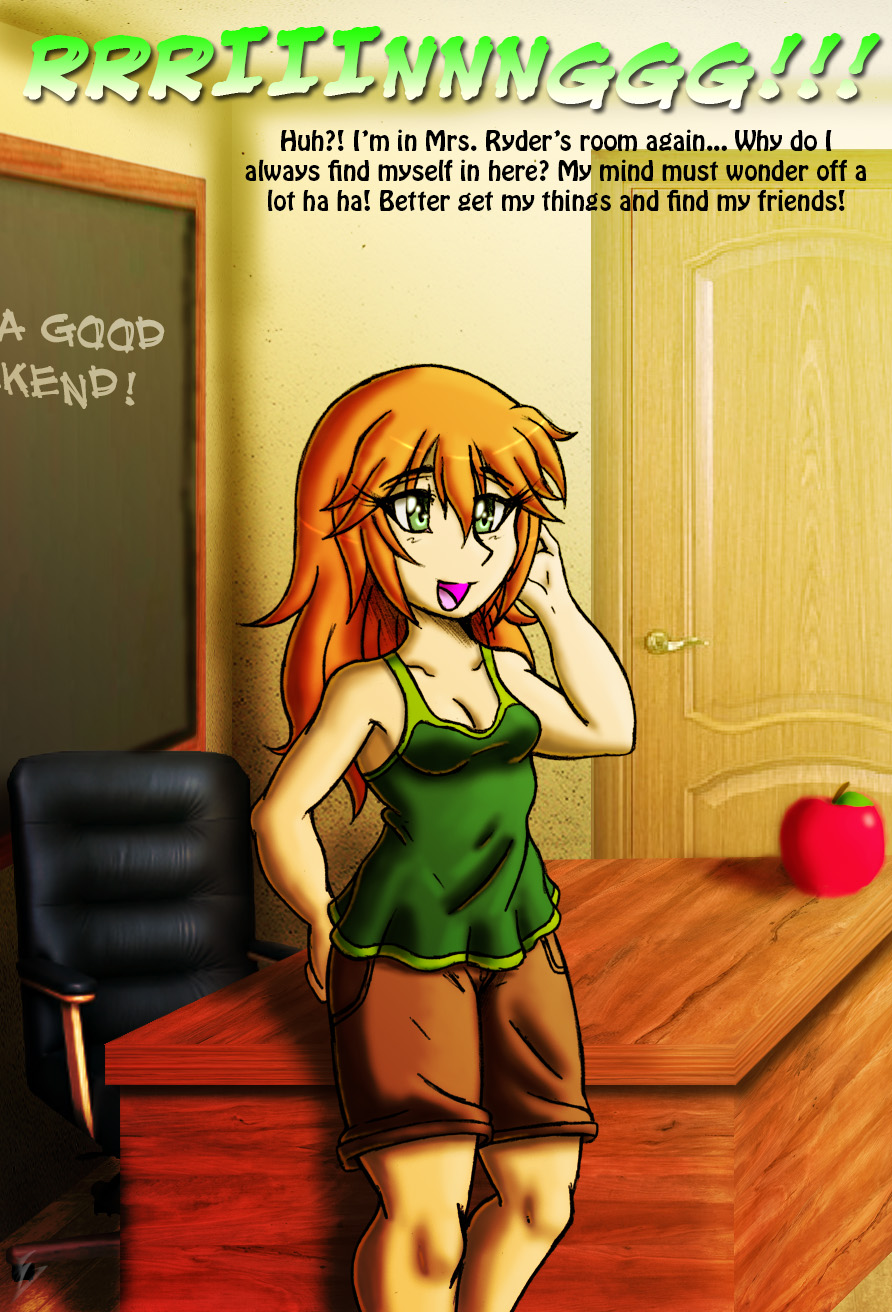 Watch
Image done by
ViroVeteruscy
Character created by
TF-SquareSting
and Gearlordex
The awareness of Rolanda is a strange one. She is both Ryder and not her at all. Fortunately she possess a mindset that does not dwell on such matters. Her boundless perkiness contrast Ryder, but that youthful exuberance is something that Ryder still craves. While Rolanda does share memories and emotion with Ryder. The two do not share personal thought making for some tricky situations. Still Rolanda does think that Ryder's lustful emotions can be a bit much.
There is a quiet pause as the figure of Rolanda stood still where once there was Ryder. The newly emerged personality still orienting herself as the body comes off the stimulated high from the change. The sudden clamor of the school bell brought the young lady back to the world. Her eyes light up with youthful glee as her mind fully embrace itself as the thoughts of fun to be had this break came to mind. Rolanda could not wait to experience her first Spring Break.though never thought she be doing it commando.
Character Profile -

So does Rolanda know that she's Mrs. Ryder?
Reply

Yes, she just gets temporarily disorient at times after changes it takes awhile for her mind to calibrate completely.
Reply

how does she solve the shoe problem ?
Reply

I find this approach really interesting, the reverse trope. I think you did a great job with Rolanda, nice work!
Reply

Thanks, well we will seeing Rolanda returning back to Ryder soon enough in PiC. And maybe for the TF shorts raffle if one of those entries win.
Reply

Upon reflection - this narrated sequence somewhat experimental, as you've said - I think it has been a wholehearted success. The sequence rich and compelling in itself, the complimentary bodies of narration have afforded this a vivid texture and insight; new dimensions from which to appreciate a transformation which is remarkable and fairly particular - inspiring as many questions as it answers, for the viewer. In all, as someone who has been practicing this technique for some time with my own coms - characters, sequences, portraits - I think your efforts here are accomplished in giving Ryder/Rolanda's transformation a distinct candor, which is all the more appreciated too

.
Reply

Thanks for you input on this experiment. Since it was this or try to write more sectional story portions in the description instead. Be a poll about it probably.

Any particular questions come to mind from this that need answers?
Reply

Your conviction to expand and refine your current technique is commendable, and hopefully does continue to evolve too. Regarding the process and content of this current sequence, its implementation has put me in mind as to if Ryder's original, epiphanic transformation was somewhat likes this - though the context is reasonably well known, a depiction or perhaps narrative accompaniment to that would be interesting to ground the character's origins. In regards to this, I have noted that other aspects were discussed such as Ryder doing this unshod, and making a number of personal observations as her nature transmutes into that of the more winsome Rolanda. In this respect, if I were to propose, I would say never be afraid to include suggestions or allusions to sizes: comparisons, metaphors, shoe sizes and the like being ways to further visualize the change, in its context.
Reply

Thanks on the feedback. Sure that in the initial transformation and reversion was filled with much confusion and disconnect that would overshadow the pleasurable aspects. It likely as she becomes more comfortable and engaging with the matter that it takes an added level of euphoric and arousing nature to itself.

Indeed more allusion of sizes could come up. Just a matter of portraying it in a way that does not feel so technical.
Reply

My thanks for your consideration, as the initial transformation often shapes the candor of successive shifts; the process here intriguing on many different levels as what initially transpired evolves in different directions, as both personas settle into the dynamic. Also, you do have a good point, as a naturalistic approach does afford a certain texture to the text, and does energize the process of what's transpiring on the page. For instance, you have already accomplished this by referencing that Ryder was barefoot during the change - the tall, full bodied woman evidently too big for Roland's sneakers - hence requiring the newly transformed teen to don some footwear, or seek an explanation for her unshod state etc. This is the context of where we leave off works to conjure a few images for the cognizant reader: for example, a eager, but sheepish Rolanda sneaking out of the classroom, sneakers in hand, before stuffing them on and affecting the nonchalance of a regular student leaving for Spring Break. Just a little musing as to how the process spoke to me, inspiring thoughts as to what might proceed after etc.
Reply

Indeed the dynamic between the two sides are certainly different from any of the other characters. The tentative balance benefits them both even if Ryder's wanton desires might stir trouble for the more carefree Rolanda side. Certainly a fine example of sorts to the narrative presented.

Seems it stop left you with any other curious question?
Reply

That is very true, and quite compelling, I can attest. And my thanks for your words, regarding the inspired narration. Hmm... well, considering your well established approach, I will be ever more curious as to what might emerge under your pen when the reversion tale is ready: the notion of reversion an intriguing one, though it will be interesting to consider the dynamic for Rolanda to Ryder, as things stand. More so, your intentions have made me ever the more intrigued as to what could emerge if one of my ideas is picked up - for instance, the scenario of a sheepish and constrained Ryder trying to deny her changing secret, far removed from her comfort zone, is a colorful possibility, to put it lightly. Of course, all proposals from all participants should have a fair chance, as we know

.
Reply

Indeed, thanks for enjoying the narration so much. Certainly the reversion will definitely be something both familiar but also tinge with difference inherit in the nature of the subject. Still weighing between different setups that best present the characters for this situation. Also your idea too is quite interesting as it takes Ryder there out of her comfort zone. If this Raffle goes well, may repeat it again after sufficient amount of time passage. Indeed chance will be left to the randomizer to decide.
Reply

Loved it through and through. I knew the artpieces, but I hadn't followed them with your own narration. This was amazing. Mine and Gear's characters really found a great deal when you got their rights.

I can't help but hope we see Aeron turn into Pearl next. Or even better, an art piece featuring another character from the same verse as Ryder/Rolanda, transformation and all.
Reply

Thanks. Try to always compliment the viewing experience with some narration. Glad you have enjoyed how their story been unveiled. Future stuff might get a bunch more sexier and seems fans for them are emerging.
See Aeron hopefully soon enough this month. Not sure who else to try next or move some stuff to Aeron and Ryder together.
if you want see some more brief TF narrative like the ones here for Ryder or Aeron. Can participate in my
TF Short Raffle
to see what I might write.
Reply

Cool. It's amazing to see new people adhering to these characters' fandom.
I hope so

it would also be fun to make something with both Aeron and Ryder, but that should come later.
I thought the TF Short Raffle didn't include Aeron/Pearl or other characters that hadn't been introduced yet.
Reply

Yup. Some want to help commission art for them. Also see fan art too, bit rough draw but still fun to see.

yeah, been talked about with other fans about such interactions. Some fairly risqué.

Aeron was one of two exceptions since I got a good feel for them. But I have not showcase them yet.
Reply

Oooh, that's amazing! How are they thinking of helping commission art for them?

I was thinking something interesting, actually. Ryder and Aeron at the beach as teacher and student. Ryder teases Aeron with her voluptuous figure, and Aeron is feeling kinda envious. Suddenly Ryder takes a glimpse at the sun and Aeron starts changing into Pearl. When the changes complete, Rolanda and Pearl enjoy their time at the beach as friends.
Quite risqué, but not too much.

Oh, cool. Then I added my suggestion.
Reply

Basically pay a commission artist to do an approved pic or sequence.

Yup, been discuss fun scenarios like that. Though I have been given some definitely risqué ones.

Always welcome to add more to the raffle list.
Reply

Oh, so they themselves are offering to pay the artist? Great.

Yeah, I can see that. It would be fun to do a brainstorm with a few fans in the future.

Sure. If I think of something else, I'll be sure to add to it.
Reply

Reply