By Sephzero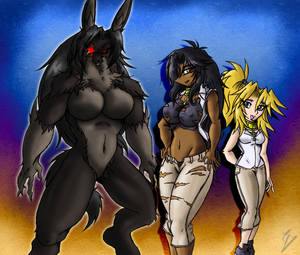 It was a fitful night for Jackie Valentine, her rest could hardly be considered peaceful. Though she had fallen asleep hours earlier, peace proved elusive in her slumber. Her sprawled form across the bed tangled about with the sheets covers displayed her restless state, but the figure that lying slumbering also reflected something else out amidst with Jackie too.
While Jackie appearance was normally that of a blonde hair woman with fair skin, the figure that occupied the bed was nothing like so. In contrast to Jackie more comely appearance, the figure resting possessed a far more voluptuous and tantalizing figure. Dark sin and a raven mane only accented her seductive figure that could still stir lust in those looking upon her.
Clothes that once fit loosely on Jackie normally were ill-suited for this much more alluring figure. A simple shirt that covered much of her torso now barely reached over the massive bosoms she sported with just a teasing glimpse of her bottom breasts and leaving her smooth stomach visible. While once conservative undergarment now tightly spread thanks to far wide form, but still not enough to be entirely discomforting. And while some might consider these taut attires might be the source of her discomfort that was hardly the case.
For in her current state, Jackie possess a far heightened sensation that while it allows her to more intimately feel such discomfort also allow for a far greater sense of pleasure. Not that this would be something Jackie normally would admit to enjoying, she was helpless to deny the sheer depth of pleasure that this more alluring state was able to feel. Thus her personality altered in both body and mind took to somewhat perverse enjoy in many naughty pleasures and indulgences that Jackie could not normally accept.
The source of her discomfort was something she might had been aware of earlier. But her mind had not been distracted by other things earlier in the evening. Along with the emerging of this rather uninhibited and luscious form, though the two were intimately connected unaware of the situation as she was presently. The curses that gave her this rather scandalous form was but one of several curses placed on the young lady.
And while her present form was intended to be pleasing on the eye and more agreeable to pleasure, the other curse was intended to deal with those whom beauty was unnecessary or unneeded with a form that was less beauty, but instead a fearsome beast. The feeling of something stirring deep within her was growing increasingly restless waiting and yearning for the right trigger to bring the beast forth.
Outside the clouded night sky was starting to part way to reveal the full and luminous moon high above shining light down. The light of the full moon gleamed through the open window in her chamber and bathe the restless figure in the brightness.
A low growl escaped her lips that sounded completely inappropriate for the sleeping figure to make, but one she made nonetheless. Her lips peeled back to show the teeth starting to sharpen into a more fearsome form as her breathing became agitated.
Her hands feminine and graceful were quite skilled in their talent in touch able to both find the best point to ease tension along with to illicit pleasure too. But these hands were changing now, the delicate fingers grabbing a fistful of the sheet in hand. Squeezing into the sheets the hands started to swell and enlarge in size losing their graceful appearance with nails that started to darken and sharpen. Sounds of ripping fabric could be heard with these changing nails cutting into the sheet.
Stirring still fitfully in the bed while the light of the full moon continued to shine upon her, Jackie was still unaware of the growth and changes to her body. Though this alluring form was quite bountiful and sizable compare to how she was normally, this newest change exceeded even that. But while the other form was more keen to presenting a figure of sensual beauty, the swelling muscles that were growing revealed a different intention for this transformation.
Clothes ill-suited for her voluptuous body were completely unable to cope with this newest change with the rising expansion of her chest with each labored breath bring new tears to her shirt. The breasts pushed outward to against the fabric of the shirt until a loud split down the middle rendered the garment obsolete. Her breathing eased with the release, but her growth continued still.
The figure was now increasingly covering more of the bed then before as her growing form continued further. But other more inhuman changes were starting to emerge forth now that her growing body had burst free from her attire. It started as darkening fuzz, but soon started to spread out further and deeper than that across her entire body. Her dark skin vanished beneath the spreading black and grey fur pelt that encompassed her body while it continued to change.
The long raven mane that crowned her head only grew thicker and wild with this change, but something else started to emerge forth amidst these locks. Tall and pointed ears of a jackal emerged forth from her mane at the top of the head. Below at her face, lips had darkened while her mouth opened to reveal a fearsome set of teeth that were increasingly filling her mouth too much to be closed. Both of her eyes still remained closed but an exotic golden marking appeared below her right eye. Nose too had blackened and shifted with the spreading fur to give Jackie a stunted muzzle on her face.
A painful tugging amidst her swelling rump caused Jackie to turn over in bed pushing her firm bosoms into the sheet to reveal the source of the nuisance. A tail quickly made itself visible emerging out and carelessly waving about in the air. Alongside this, her feet had finished their change into the more bestial appearance with black claws that tore into the sheet and cover of the bed while still undergoing the throe of this transformation.
The rising figure on the bed was a far cry now from the beauty that fitfully slept there before, while the feminine form was still visible it now sported more massive muscular frame and fearsome claws that would give many a pause. The wild raven mane only helped to accent the impressive size the beast now bore practically dwarfing the bed which is now far too small for it. Ears twitched as her face leaned forward feeling the final portion of the change upon her.
Gasping at the air her stunted snout started to stretched forward into a muzzle. She snapped at the air a few times with a growl testing out shifting jaw. Fully emerged her face had warped into the visage of a fearsome beast who opened her eyes finally opened to reveal the right with only a burning red glow, while her left eye was red and monstrous.
The monstrous werejackal rose herself up ignoring the groaning strain of the bed beneath her or the savage tear marks she had made in the throe of her transformation. Stretching a bit and shaking her black mane to get her bearings, the jackal gaze was quickly caught by the shining full moon outside. A flash of realization sparkled in her eyes before she turned her form in the direction of the moon.
Her mind briefly struck at how cliché her next action would be, but she quickly dismissed it. Bracing herself, the mighty werejackal let out a voluminous howl in salute of the moon.