Follow me: | PATREON | GUMROAD | YOUTUBE | INSTAGRAM | TWITTER | FACEBOOK


On my Patreon page some time ago was a poll and the winner of the poll was Creature #1
Drawing process video, PSD file, steps with commentary and more in Reward on my Patreon.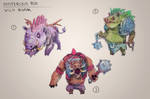 Image size
1600x900px 1.45 MB

seems like you should be making concept and official art for Blizzard. (game company)
your sense of color and the way you paint and your style looks beautiful, good enough for any high demand game company.