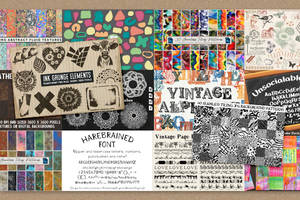 HG Designs Subscriber Area
Lots of high resolution goodies for graphic design including textures, photoshop brushes, seamless patterns and more.
---

Description

Hey! I upload my brush set that i use in 2016
!
You can download it from my GUMROAD it's for FREE: gumroad.com/sephirothart
Promo video: youtu.be/GA0dpGyS12A




Support me on Patreon:


PATREON
:
www.patreon.com/sephirothart
Subscribe on my YouTube channel:
YOUTUBE:
www.youtube.com/sephirothart
Thank you!

----------------------------------------­-----
Link's:
Gumroad:
www.gumroad.com/sephirothart
Patreon:
www.patreon.com/sephirothart
Twitter:
twitter.com/Sephiroth_Art
Instagram:
www.instagram.com/sephirothart…
Facebook:
www.facebook.com/sephirothart
...
Вконтакте:
vk.com/artofsephiroth
Virink:
virink.com/sephirothart
Image size
3840x2250px 2.45 MB