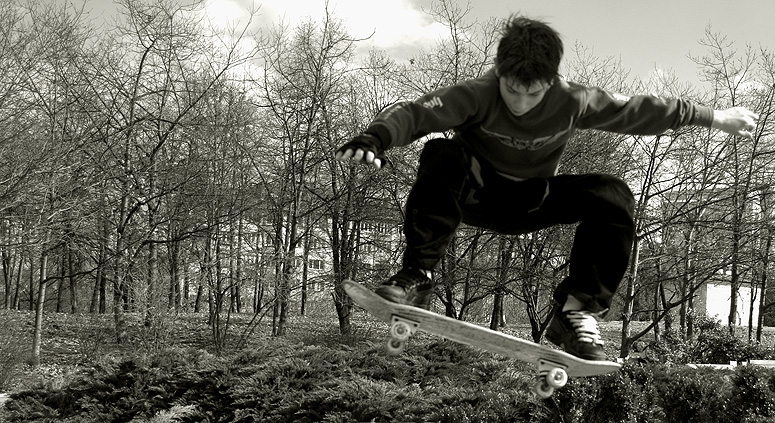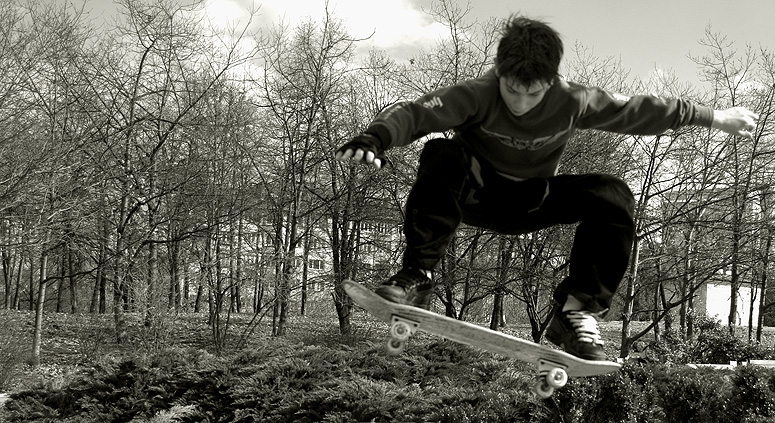 Okay, so this is not verry photography, it's out of focus... the focus is generally not on the subject... and yes the subject is all that matters and I kinda screw the shot up... so don't do this...
However, I post it because and only because this is my first "Can I take you a picture". The people are generally strange here... it looks odd to walk with camera on... So I had this paranoia thing of saying these words... So the story is as fallows... I saw this kid flashing around... He was like a storm... I generally hate skaters, especially the "trics" thing about boarding, but he was like a storm... 7-8years old unstopable, full of speed. So I walked down to him, and there was his dad taking pictures, I thought now or never... asked him in bulgarian "Мога ли и аз да направя един кадър?" - and yes he was just like you "WTF?!"

he said "Sorry I don't understand"... He was speaking english so I was like "Duh.... Can I take a shot?

" And he was like "Sure, of cource". So I took a shot, the kid said "Do you wanna make another?" I was like a cabbage - "Yes

" and this is the second shot.
So now I'm no longer "Can I take a shot"-virgin - YES!



haha congratulations! you made me smile

!
i like this one... the background and i think i can see how he is, like you wrote it...

Reply

wow thats really cool, nice mid-air shot and a really good view, very cool.
Reply

eiii nai-nakraq

kazah ti che nema smisyl da se shashkash.. i kvo plashish horata che tuka naroda bill odd

evala dushe

ochakvame oshte v tozi kotext

"moga li da te snimam"


Reply

heh, looks like a huge fall

Reply

NDK...

haha az ne pitam napravo snimam skri6om

dobra snimka,haresva mi i lapeto qvno si go biva v skaterstvoto

bravos

Reply

nice moment!
great job

Reply