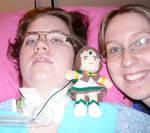 Back in
November of 2008
, I bought you the story of Sara Baker, AKA

, a friend and fellow deviant who had suffered a stroke after a car accident. The stroke resulted in her being "
locked-in
," a condition in which she can feel her whole body, think and reason clearly, but is unable to speak or move.
Since the accident, Sara has done amazingly well in making strides towards improvement. In late 2008, Sara was able to move home under the supervision of home nurses and her mother's care. Though they have been slow and long in progress, she has taken little steps forward like learning to move her head a bit, purse her lips, and for a while she was even
free of her tracheotomy
and breathing on her own.
On Sunday, July 12th Sara went to the hospital with low O2 saturation and a high heart rate. On the ambulance ride in, she went into respiratory arrest, AKA she stopped breathing and had to be resuscitated. She got the medical attention she needed, but they had to put her under for a day or so. To make a long story short, she's awake now but still in the ICU. She has some infections the doctor's are working on, though she is expected to return home eventually.
Her mom regularly updates
the blog
they set up to keep people informed of Sara's condition. Lately, she has been posting about their money troubles. She lost her full time job (along with loads of other people lately) and she's been doing contracting work and stuff to get by. A few days ago her truck was repossessed, and she's worried about how they will continue to pay their rent.
It's clear from her posts that Sara's family NEEDS OUR HELP!
I know this is a hard time financially for a lot of people, but it really doesn't take that much to make a difference. In the last fundraiser in 2008, most of the donations were between $5 and $20. It added up fast! We raised $2400 in just
two weeks
for Sara. With that money, her family was able to purchase a computer interface system to help her with communication.
This video
and
this video
show her old computer and how she used it to 'talk.'
This time I am setting the goal of $2500 by Septemeber 1st.
Can you help make a difference? Even if you cannot donate at this time, please
fav this news article
and pass it along in your journal! The more people who know, the more help we can get!
Donations can be sent to PayPal donate@sarascourage.org
Or mailed to:
Sara Baker Trust Fund
#10350222753
Exchange Bank
8220 Old Redwood Highway
Cotati, CA 94931
If you make a donation, please let me know so I can add your icon to my main page.
This money goes directly to Sara and her family. If you are comfortable with telling me the amount you sent, I will be keeping a tally to see how close we are to our goal.
For more information about locked in syndrome, please check out this article written by Nick Chisholm, locked-in since 2000
www.bmj.com/cgi/content/full/3…
For more information related to Sara Baker:
www.sarascourage.org/
<- The site her family set up for her after the accident
www.thecommunityvoice.com/arti…
<- A news article about a fundraiser in Dec 2007 to raise money for her care
www.giveupalittle.org/case/29.…
<- Her GiveUpALittle.org page
www.techhighteam675.com/about_…
<- Her robotics team who named their robot after her.
Deviants Who Are Helping

will be giving away Sailormoon merchandise in a raffle for people who donate at least $5 to the fund. If you are a Sailormoon fan, check out the GLORY FUNDRAISER BOX on this
Journal Page
for more information.

has set up a
Zazzle Store
with super cute items to show your support for Sara, AKA Glory. All proceeds from the sales of these items go to the fund! She also has
this deviation
available as a print to raise money for the fund.

is doing Chibis for Charity, see
this journal
for info

is taking commissions to raise money for Sara, see
this journal

is making small plush owls to raise money, see
this journal

is taking commissions for the fund, see
this journal

is doing Terrible Portraits for a Terribly Good Cause at
this journal

is taking a few commissions to raise money, see
this journal

&

are doing collaborative commissions, see the bottom of
this journal
for more info.
Thank you for reading! Please do what you can to pass the word along!