I was willing to give Tumblr's new policy guidelines a try but today, I've gotten a notice that several of my photos violate their new standards. Including this "highly offensive" shot of two actresses enjoying a tender moment (shown below).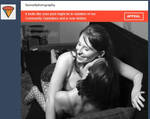 & yes, I could appeal but since half that gallery would no longer meet their new standards, its simply no longer worth my time continuing to update. I still fully expect to lurk (because where else am I going to get my daily Star Wars fix)...but like, yeah, I'm pretty sure I'm done with Tumblr.
I'm kinda glad I never left deviantArt. Its always been able to fit my meager needs & hasn't been abandoned like so many of my colleagues. But at the same time, I can't ever knock a person for doing something I wouldn't if it does or doesn't fit THEIR needs. Y'know? I think its pretty pathetic that I've got a 4.5 year backlog of stuff I'm currently posting versus stuff I've already shot but this social media posting thing is a job in & of itself! *deep sigh* Oh well.
& yes, I'm still selling my sets of my shoots for those willing to donate money. But please only PM/email me if you're serious.