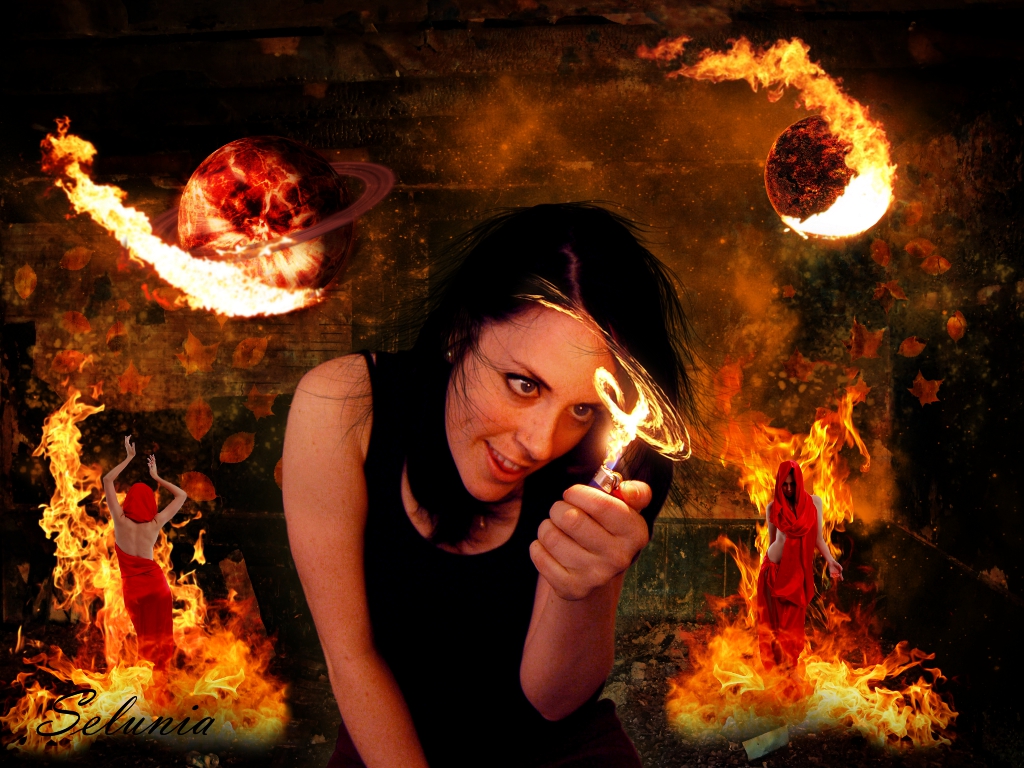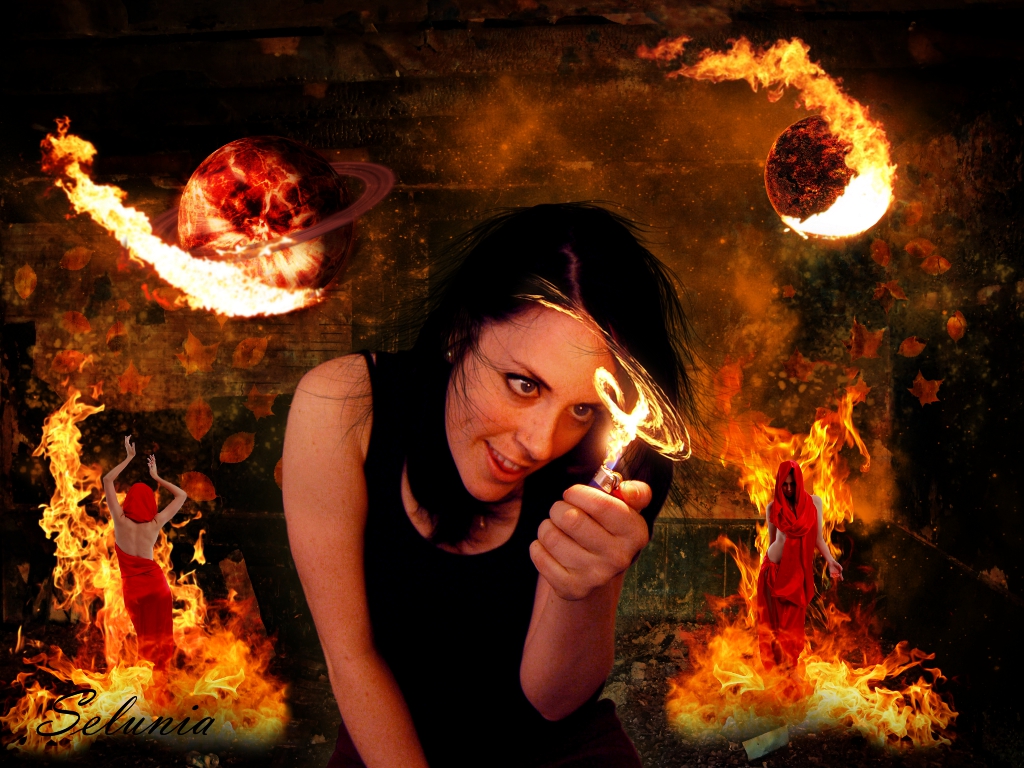 PLEASE READ THE POEM BEFORE CRITIQUE OR FEEDBACK
I receive a lot of feedback from which I'm sure nobody knows or cares what this picture is about!

-----
Inspired by
Pyromania I want to see a light show in ochre and dancers
two thousand degrees in heat: I want to watch them
all traipse across my bedroom floor with their
encore in grey.

Blistered fingers flicking cigarette lighters
to see an orange pirouette turn for me,
my parents worry that I smell of smoke but
they don't know the reality.

Well.

The truth is that you can find me weaving
kerosene trails around the moon and Saturn's rings,
telling acorns and oak leaves to enjoy
our favourite disease -

So I flick the lighter once again and speak
to the blackened walls and singed floors:
'don't fear the kiss of the flame,
don't let them douse the burns
by ~
Anatopist
I think this Poem is awesome! All the words used to describe Pyromania build up a Picture in my head that I tried to bring to life in my work. So I kept to the poem as much as possible.
I hope it turned out well

Made for the "Fun Fun Fun Challenge!!!" at

[link]
---
Stock used
Models & Background
Model by ~
lilbittydemon-stock
[link]
Room Background by ~
NapleGray
[link]
&
[link]
Fire dancers by `
faestock
[link]
burned texture by *
Meltys
Flames & Brushes
[link]
Fire pics by ~
cikeno
[link]
&
[link]
Flame packs by *
MD-Arts
[link]
Leaves brushes by *
FrostBo
Celestial
[link]
burning Moon by ~
HugleBunnys
[link]
Exploding planet by ~
Mouse-eater
[link]
Saturn rings by ~
saturnstock
[link]
Galaxy brushes by ~
Sunira
Let me start this critique by saying that I love your work and it really means a lot to me when you like something of mine and this is nothing personal and not meant as offensive. But, unfortunately, you've fallen victim to me on a critiquing spree. Or maybe that's a good thing.

. Anyway,my critique here is something that I've noticed in many places- something I call 'quality clash'. It's not as obvious here as it is in most places, but all the same, I must say something. What quality clash is is when a high-quality stock and a low-quality stock are used in the same manip. The difference in quality makes it obvious that it's not real, which is a manipulator's nightmare. Here, it's not very noticeable, but this is just something that I have been trying to get across to people. I looked at the model's image and the bg image and compared quality, and I must say that you did a very good job at masking the difference. But, being an honest-to-God-to-the-point-no-nonsense girl, I just had to point it out. Overall, a very good job, love!
-Amoret

The Artist thought this was FAIR
1 out of 1 deviants thought this was fair.
Hi

This is for the Feedback Frenzy Week.
Joh, there's a lot going on here hey. I gonna strip this picture appart bit by bit to do this critique, so bare with me. Firstly I like the concept, and I can see where you were trying to go with this. I also think the main model you chose for this was a very good choice and over all you chose very good stock to work with.
First mistake I can see is your contrast is too high. I gives the image a grainy feel, like when you take a hitty picture with a shitty camera, and it makes everything harder to blend. So initially you should've lower the sturation on this image (you can always add mroe color later on) I would say lower it by half way.
Then your flames. Firstly I think you should take out the faestock models form the fire, I think it makes the image to busy, but that's just me.
Then when working with fire, I still struggle my ass of. But I have learned that you must make lots of layers of fire, set them all to different blending modes and opacities and erase different sections on all of them, that makes the fire seem more natural.
Also with the lighting on the main model, try painting selected areas for highlights with a yellow soft brush and then setting the blending mode to either overlay or softline, change the opacity and make as many of these as is neccesary to get the correct lighting effect.
Please note that all the opinions expressed in this critique are my own, there for take from it what you want and leave the rest behind. I do hope that it was somewhat helpfull!!
Regards
Leana
The Artist thought this was FAIR
2 out of 2 deviants thought this was fair.