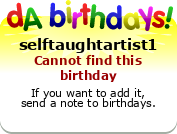 i'm a girl between the age of 15 and 25

i live in South Korea

I have a Bachelors degree in Graphic Design with a minor in fine art

my hobbies include: singing, violin, piano, sewing, knitting, writing (poetry and a novel), dancing, linguistics, all types of art, HTML... (i'll stop there lol)

my favorite artist is MC Escher and i hope to someday have a imagination as great as his

my favorite color is light blue or navy blue, i can't decide!!
Favourite Visual Artist
MC escher
Favourite Movies
LOTR trilogy (and soon to be Hobbit!) , signs, how to train your dragon
Favourite TV Shows
merlin( BBC version), NCIS, Doctor who
Favourite Bands / Musical Artists
mark schultz. philips,craig and dean. mercyme.
Favourite Books
harry potter, the pern series,
Favourite Writers
Anne Mccaffrey