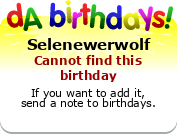 Current Residence: USA
deviantWEAR sizing preference: medium
Favourite genre of music: soft and light Rock, Instrumental
Favourite photographer: uh..
Favourite style of art: I love it all!
MP3 player of choice: What I've Done by Papa Roach
Shell of choice: sea dollar
Skin of choice: I like the skin I got, but wouldn't mind a light tan.
Favourite cartoon character: Aang, Katara, Sokka(the meat and sarcassum guy), Toph and Zuko. Monkey D. Luffy.
Personal Quote: What is in the past is the past.