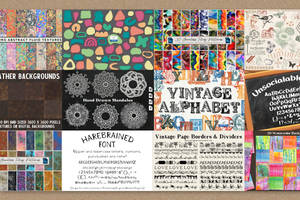 HG Designs Subscriber Area
Lots of high resolution goodies for graphic design including textures, photoshop brushes, seamless patterns and more.
---

Description
Okay, so I know that yall are probably tired of seeing Halloween stuff from me.

Well this should be the last of it. (Maybe... Muhahaha.....) Anyway, these are some Halloween borders I made, most of the drawings (I'm sure you can tell which ones), except the house and leaves (clipart), were done by me.

Rules for my stock photos


Do not steal...... If you do I will hunt you down and give you a paper-cut.

Or turn you into a zombie.

Muhahaha.....

If you use my stock please credit me. You can put : iconseiyastock : or : devseiyastock : (w/o the spaces), in your description. You may also link the original stock, if you want.

Please leave me a note or comment telling me you used my stock. (You don't have to ask permission first.)

Give me the link to your work, I would love to see what you do with my stock. If I like what you have done, I will fav it.

Ask permission if you want to use stock photos outside of dA.

Ask permission if you plan on selling prints with my photo stock .

The most important rule of all is to have fun.