Prices:
Waist-Up: $20 per character

Headshot / Bust: $10 per character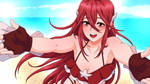 Please Note:

While working on your commission, I will email (direct message, note, whatever you prefer) you about revisions and such.

Allow at least one week for completion once the payment has been made.

Terms of Service:
Commissions are for personal use only. Please do not use them for monetary gain, including things like merchandise, prints, books, etc.

Please do not sell or reproduce my artwork or claim my artwork is your own.

Feel free to post the work on your account(s), but adding that it was commissioned from me would be fantastic!

Payment:
Payments are via

Paypal

, or I can send you an invoice if you prefer.

paypal.me/seityr
By commissioning me, you agree to the terms of service above.
Once you're ready, email (DM, Note, etc) me the following info for your commission. If you have any questions, don't hesitate to ask!


seityr.art@gmail.com | twitter.com/Seityr_Art | seityr.deviantart.com