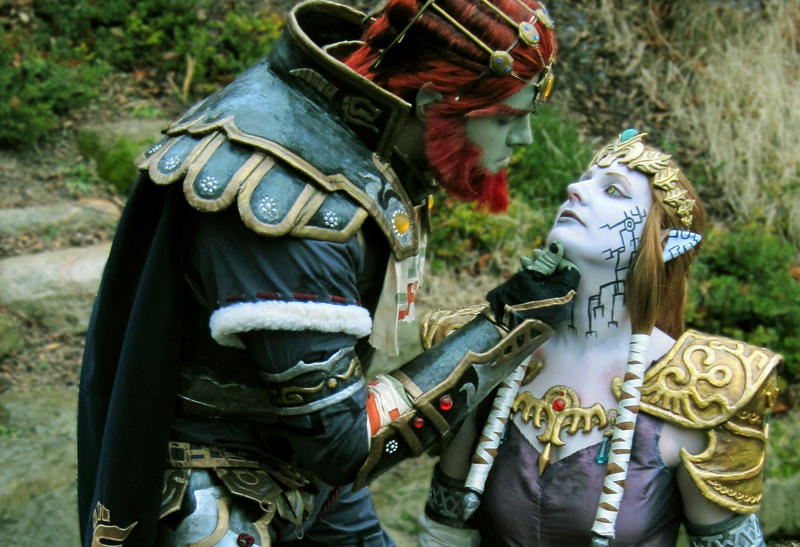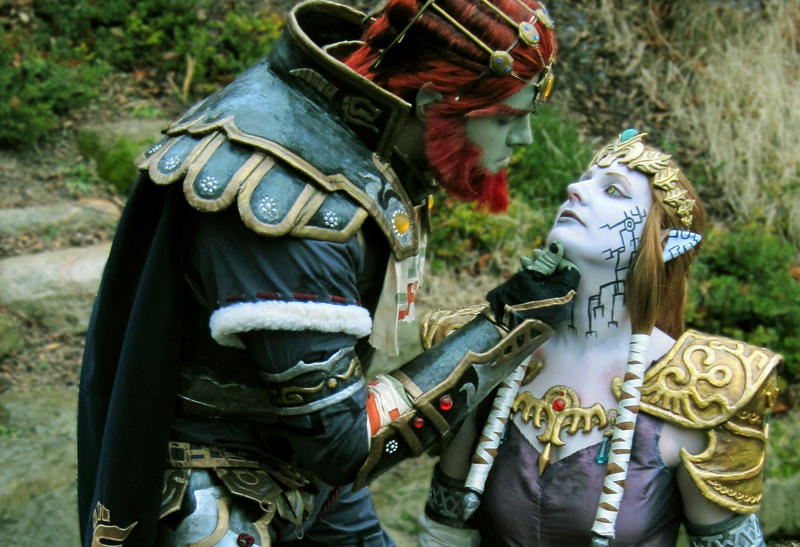 Watch
Like Seifer-sama Cosplay on Facebook
From: Legend of Zelda Twilight Princess
Puppet Zelda: Me
Ganondorf:

Costumes made by me.

Yeah okay so the title is boring, what of it?

This shot was taken by my friend who did a really awesome photoshoot of my two costumes. This one was one of my favorites because it showed off the makeup designs and it's one of the few shots where you can see some of the armor up close.
It was actually raining during out photoshoot, which was great for lighting, but I was so afraid our makeup would run. We had no issues though except for a giant water droplet landing right in my eye.

Costume Details:
Zelda: The dress is a pattern I put together myself and is made from an ivory dutchess satin fabric. The top is made out of a purple taffeta and was embroidered by hand. The designs on the dress and gloves were all machine embroidered. I spent hours and hours pinning and sewing gold ribbons on the bottom of the dress.The front panel is a silk taffeta. After reading a few tutorials about ombre dyeing I decided to give it a shot and was pleased with my first attempt. I spent two months embroidering the panel designs by hand.
The armor was crafted with fun foam and then Wonderflex was added over the foam. The crown has been redone. I made the base out of fun foam and added a layer of wonderflex over the foam. I then used model magic to create the small details on the front and on the leaves. The jewels were all made of resin (except the drop prisms, I bought those). The prism gem for the crown was probably the most complex gem to make. I sculpted the prism shape from paperclay and a mold was made from the sculpture for the resin.
I also redid the wig again... I like the new color, I think it looks more natural for my skin tone. Rather than extensions like the last wig, I decided on foam inserts for the thick braid pieces. This was so much easier to work with and it makes the wig a lot lighter than it was. (Thank goodness!)
Ganondorf: All of his armor pieces are made with a base of fun foam and then covered in wonderflex. Each piece was layered in gesso, sanded, and then hand painted. The pants and shirt are made out of a grey cotton fabric with the black designs appliqued onto them. The armor scarf and wrist sleeves were also made out of cotton and the designs also appliqued. I also remade a new cape for Ganondorf. The cape is made out of a crepe fabric with gold designs appliqued on the back. This is also the first time we have used wig for this Ganondorf costume, but I think it really adds to the character.