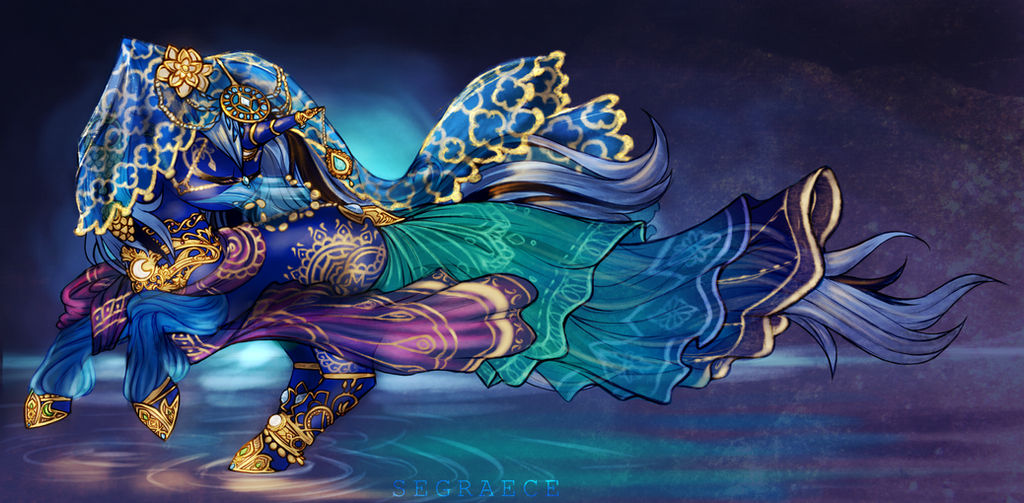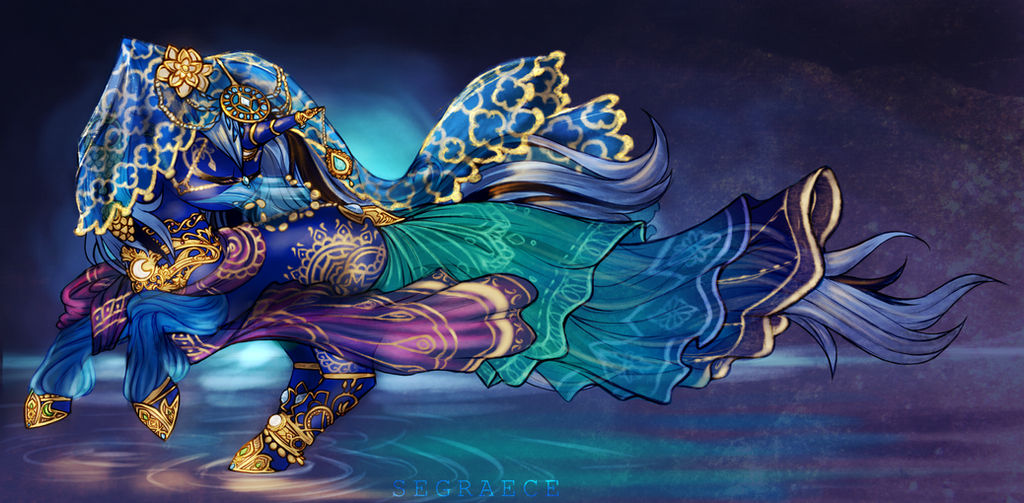 Watch
Seg is now back, ready to upload some art! Yay!

This picture of a belly dancer horse is a commission for

As a very detailed drawing it took many hours to be finished, but I hope you like it c:
I don't know if I've ever said that, but I always loved making super detailed art. This piece was not an exception. So thank you so much for commissioning me and being so patient! Hae a great day!

OC beongs to
MoonlightSilk
Art made by Me
Just to make this easier overall, I'm going to start with the only fallback that this piece has; which is that it is kind of hard to make out where the pony is underneath all the fabrics and such. Took me a bit to find their face.

But onto all the positives! Your grasp on how fabric is affected by motion and gravity is superb. Everything flows effortlesly like the dance style it is portraying. Your attention to detail with all the different shades, fabric textures, patterns and jewellry is simply stunning. You even added very faint traces of glow around the gold to make them all stand out, something which makes the piece spark to life. I can only imagine this took countless attempts to get just right, and you have acieved that in spades.

One of the best high detail, high finish pieces I have seen from the fandom to date.
The Artist thought this was FAIR
10 out of 10 deviants thought this was fair.
This has to be one of the most beautiful pictures I've seen from this fandom. Once again, you were able to pull off such a complex design with precision and elegance, something that possibly no other pony artist can do.

You did an incredible job with the pony's outfit. Every component of the outfit's design seems to be exactly where it should be, which not only demonstrates your painting skill, but also shows that you have an excellent grasp of pony anatomy. I can't tell if you or the commissioner designed the outfit, but either way, I can tell that a lot of time and effort went into making these exotic designs work on a pony.

I don't want to make this a review of the dress, so let's talk about the pony. The pose is perfect for conveying beauty. The pony's facial expression reinforces this: with her eyes closed and partially concealed by the outfit, my attention was drawn away from her face (the focal point of most pony pictures) and towards her body. It also gives an impression of serenity.

My biggest qualm with this picture is a lack of contrast. At a quick glance, it is hard to distinguish between the pony, the outfit, and the background. The background could be a little darker, and the pony, especially her face, could be brightened by some ethereal spotlight.

All things considered, this is an amazing image that probably won't get the recognition it deserves. I honestly don't think any artist could make a better image like this one if they tried. Great work, Seg!
The Artist thought this was FAIR
4 out of 4 deviants thought this was fair.