The original idea was to create the setting for a third installment of the Mario Strikers series.
Somewhere along the way, I realised that I had failed. My scene was lacking personality, and I just didn't know where I was heading. I gave up.

3 months later, A new idea had sparked my mind. I started back from scratch and took the project in a new direction: Football. Well, American Football, as I call it as a European.
I have waited ten months for this, so without further ado, let's take a look:
As you can see, I chose to depict the game to be played with a Gamecube controller. Not necessarily out of nostalgia. The buttons' variation in color, shape and size allows for an open receiver to be spotted that much easier.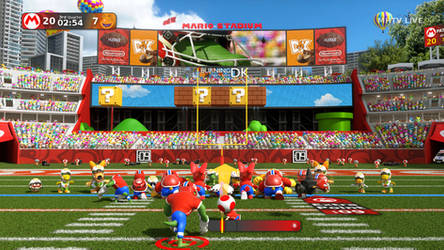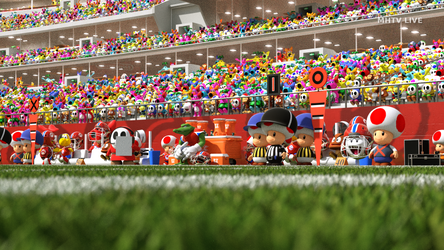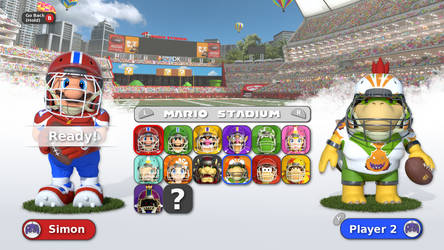 I would describe the gameplay as a mix between NFL Blitz and the EA Madden Games for Wii.
What you see on the pictures is the classic mode. Each Character has a certain Skill, much like in Power Tennis but set up like the super shot in Strikers.
An item based mode would include a smaller field and smaller teams (I'm thinking 6v6) and no first downs.
A more cooperative mode would let the second player choose a star character to fill in as the Tight End of the Team, as that position makes for the most varied gameplay.
I hope you enjoy this little fantasy of mine and I would love for this to inspire a discussion about a game like this.

Have a nice day everyone