dA Auntie

dA Daughter

dA Son

TD Best Friend, Co-Author, and Partner in Crime ;D

MLP Best Friend, Broadway Buddy, and Whovian Pal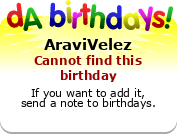 :thumb453099286::thumb453535772::thumb453535779::thumb453535789::thumb453544411:











Chronically weak and timid, but with a heart of solid gold, you tend to require and depend on the help of your friends in most situations. You enjoy their company, but also enjoy solitude and time away from your friends where you can enjoy the sounds of nature. Just because you know you're weak doesn't mean it holds you back, because you know you're strong where it counts, with your overabundance of kindness, caring, and compassion. You're often worried about saying or doing the wrong things and also fear rejection.
Speaking of fear, you've got a lot of it, often times letting your fear hold you back from doing even the most simple of things, such as jumping across a cliff. But in that fear, you can often find just enough bravery to stand up for doing the right thing if your friends need you.
You may be naïve and innocent, and you're very shy and quiet, but you're also a very good listener and are likely the one your friends blab on about their problems to—and while you may feel powerless to help at times, just listening and cheering them on means the world to them. Yay!











What Kind Of Pony Are You?
Hosted By theOtaku.com:
Anime











What Element Of Harmony Are You?
Hosted By theOtaku.com:
Anime











Which My Little Pony Are You?
Hosted By theOtaku.com:
Anime











Who Would Be Your Mare Of Honor?
Hosted By theOtaku.com:
Anime