This is a commission done for me by unusualsuspex

This is the Vornel System, located within the Norayis Sector in my AU Abramsverse New Start series.
seekhim.deviantart.com/gallery…
It's colonized by the Tkarites

NORAYIS SECTOR
The Norayis Sector is in the Alpha Quadrant
It is about 100 light years 'south west' from Earth.
It's 20 light years 'south' of Talos and 40 light years 'east' of Klingon space.
It is located within the territory of the United Federation of Planets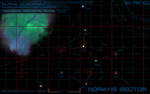 LOCATION
The Vornel System is located near at the southern edge of the sector.
It is referred to as the 'Southern Gate'

SYSTEM INFO
Star:1
Vornel is a G type yellow star
Planets:5
The system has five planets:
Vamu
Class: O (Ocean)
Population: 20 million
Moon: 1 Zykel (Class D: Barren, rocky, lifeless)
Vamu is a world of warm oceans and scattered tropical islands.
The islands are famous for their fruit trees and lovely beaches.
The cities are known for their stunning harbors and is home to some of the Freehold's finest sailors and boat-makers.
The economy is based on agriculture, fishing and tourism.
Vamu is extremely popular as a resort throughout the Freehold and has millions of tourists year yound.
Rockla
Class: M (Earthlike)
Size: Earth
Population: 1 billion
Moons: 3 (Nmeera, Cosee, Trytee (All Class D)
Rockla is unofficially viewed as the capital planet of the system.
It has the largest population and is a seat of politics, art and culture.
The planet is moderate in climate and comprised of verdant plains and grasslands.
The economy is based on agriculture, animal husbandry and services.
Ranching is a major industry and Rocklan meats are famous throughout the Freehold.
Rockla is also known for its wines and beers.
Seemo
Class: M (Earthlike)
Size: Earth
Population: 150 million
Moon: 1 Jorleen (Class D)
Seemo is a cool, mountainous planet with countless fertile valleys.
The economy is based on both agriculture and mining.
The mountains produce many important ores, including dilithium
Yrey
Class: J (Gas giant)
Size: Neptune)
Moons: 24

Inhabited moon: 1
Nyvga: Class K (Adaptable: Mars-like)
The moon is famous for its vivid colors and is a source of dilithium.
Population: 30,000
Zeenta
Class: J (Ringed gas giant
Size: Neptune)
Moons: 20
Inhabited moons: 2

Calee: Class K (Adaptable: Mars-like)
Population: 10,000
Ceetera: Class L (Marginal)
Population: 6000
Ceetera has a breathable atmosphere but is rocky and frigid

HISTORY
The Tkarites originated in the Droyana System
They became space faring in 1694 and colonized their system.

They became warp capable in 1956, developing Warp 1 engines.
In 1960 they sent the Anliya to the Vornel System, which arrived after a four year journey.
They didn't find intelligent life but they did find three habitable worlds
Over the next several years several ships explored the System.
In 1978 the Three Colonies were established
Vamu
Rockla
Seemo
In 1987 the Tkarites developed warp 2 ships, enabling them to reach the Vornel System in a matter of months.
Many ambitious/adventurous Tkarites flocked to the colonies and their populations swelled.

A mining colony was established on Nyvga in 2020
Colonies were established on Calee and Ceeteera in 2090
Although colonies were also established on other worlds in the system, the system is still called the System of the Three Colonies

NEIGHBORS
Four light years northeast is the Droyana System, home of the Tkarites, founders of the Norayis Alliance
which controls half the sector.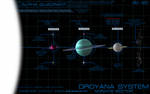 Its other close neighbors are the Bortiz System, five light years to the east, colonized by the C'tekians, members of the Alliance.
The Ogen System five light years northwest, colonized by the Rylarin, also Alliance Members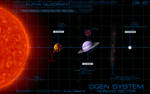 And the Iskan System ten light years west, homeworld of the Rylarin
***********************************************