A commission done for me by era7

City: Tanlon
Title: The City of Rock Song, The City of Rock Towers, The Heart of the Canyons
Planet: Nlia
Continent: Western Continent (Western Land)
Region: Sunlo Canyons
Population: 600,000 (About the size of Baltimore, Maryland)
Founded: Between 8,000-5000 B.C

"Klomin is the most powerful city of the Sunlo Canyons, but Tanlon is its heart."

Tanlon is a city state that exists on the planet Nlia which exists in my AU Star Trek 'New Start' verse.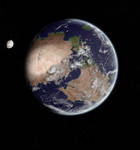 www.deviantart.com/seekhim/gal…

NLIA
Nlia is located in the Revla System
It is the home of the Nlians who are members of the United Federation of Planets.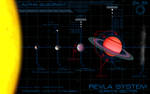 THE SUNLO CANYONS REGION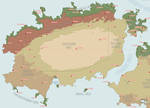 The Sunlo Canyons are located in the southwestern region of the Western Continent.
This region is comprised of striking canyons, mesas, and stand alone rock formations and towers.

The Nlians of this region are among the most skilled on the planet in both geology and stonework.
Although the area has high temperatures and low rainfall, the economy is heavily based on agriculture due to irrigation.
The region is rich in minerals and mining takes place but is carefully managed in order to preserve the environment and done exclusively underground.
The city states of this region are regarded as architectural marvels.
Most buildings are built/carved from the walls of cliffs and canyons.
Many natural caverns have been hallowed out and have dwellings built in them.
Many areas with rock towers have rooms carved within them and/or tall structures built so as to mimic rock towers.
In either case this in an area where one can see Nlian 'skyscrapers'.

TANLON (The City of Rock Song)
Tanlon is the 2nd largest city state of the Sunlo Canyons.
It is situated by a large oasis near where the Sunlo Canyons meets the Golden Sands

The area in and around Tanlon has hundreds of rock towers, pinnacles and formations, some over 300 meters high.
Over the millennia dwellings have been carved into them.

Tanlon prides itself on the fact that this is where Nlia's tallest buildings are and yet not a single structure is man-made.
Every single room and dwelling has been carved out of natural structures over thousands of years.

Inside the structures, technology has become ever more advanced over the centuries.
Outside the structures stand virtually unchanged from as they were when tiny nomadic bands first settled there.
To the Nlians this is a testimony to their attempts to live in harmony with their world.

The city is also famous for its elaborate hydraulics, gardens, art and music.
Because of its beauty and musical tradition the city is called the City of Rock Song

Because the entire city was carved inside rock towers, it is also called the City of Rock Towers
It is also called the Heart of the Canyons

FAMOUS INHABITANTS
Path Hinmar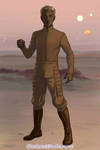 OTHER NLIAN CITIES
www.deviantart.com/seekhim/gal…

Oslamth, the Queen of Cities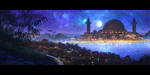 Image details
Image size
3500x1970px 9.96 MB