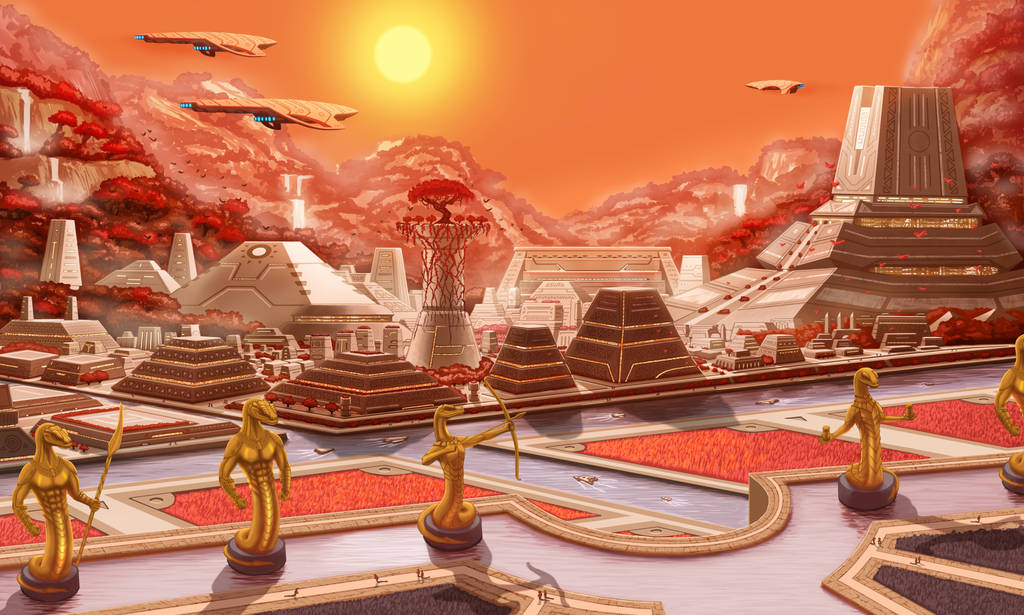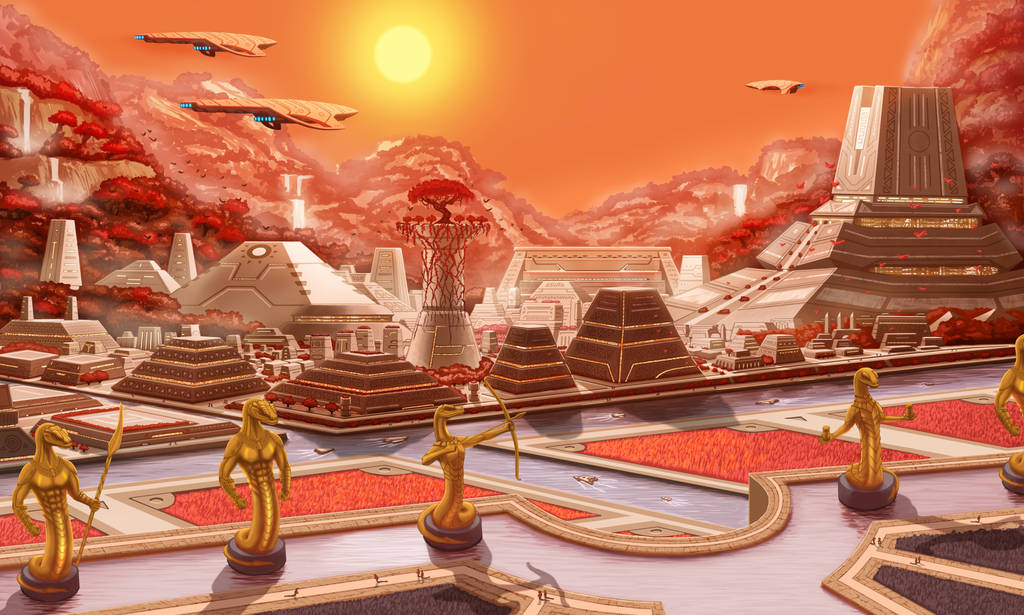 This is a commission done for me by bear1037
BACKGROUND
Continent: Aasenefaratek (Realm of C'tek Rising) Eastern)
Territory: Uremesbakarimo (Land of the Bakarimoso)
City: Tanisbalisamar (Gate of the Many Waterfalls)
Population: 800,000

This is a C'tekian city
The C'tekians are a species in that exists in my AU New Start verse.
www.deviantart.com/seekhim/gal…
They are neighbors of the Tkarites, Nlians and Rylarin

SYSTEM INFO
They originate in the C'Tek System in the Norayis Sector.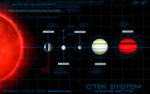 The C'tek System's sun, C'Tek Prime, is a M type Red Dwarf star.
Red Dwarfs are the smallest, dimmest and coolest of stars.
Because they give off less light and heat, planets have to be very close in order to support life.
Planets that are that close are usually tidally locked to the star, which means that the planet doesn't rotate.
One half perpetually faces the star, while and the other half perpetually faces away from it.
On one side its always day and on another its always night.

C'TEK I
C'tek I is the 1st planet from the sun
Its an M class (Earthlike) world twice the size and mass of Earth.
Its population is 2 billion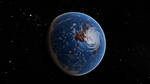 C'tek I is a tidally locked world
The planet doesn't rotate, so there are no seasons or a day/night cycle.
On the Night Side the sun never rises and on the Day Side the sun never sets.
The planet's large mass, heavy gravity, magnetic field and thick atmosphere allow heat to circulate around the planet.
There are three continents and several islands
The planet is very geologically active and there are several large volcanoes.

DAY SIDE/AMYASEVETEK (The Realm of C'tek)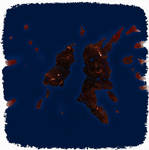 The Day Side is the home of the C'tekians.
On the Day Side the sun never sets and it's always day
The climate ranges from sub-tropical to tropical.
The terrain consists of dense rainforests, swamps, marshes, and bogs.
Plantlife is either black or red.
Black plantlife can better absorb sunlight and so is taller (trees)

ZAHIRANESETEK/WESTERN CONTINENT (The Realm of C'tek as it Lowers)
On the western continent, depending on the location it ranges from noon to evening

AASENEFARETEK/EASTERN CONTINENT (The Realm of C'tek as it Rises)
On the eastern continent, depending on the location, it is always either morning to noon.
Because of this it is called Aasenefaratek (The Realm of C'tek as it Rises)

C'tekian society is tribal in nature and land masses are divided not into countries but tribal territories, each controlled by a specific tribe.


CITY INFO
This is the city of Tanisbalisamar (Gate of the Many Waterfalls)
It's located on the eastern continent
It is in the territory of the Bakarimoso (Those who hunt along the many rivers near the mountains) tribe
Their territory is Uremesbakarimo (Land of the Bakarimoso)
Tanisbalisamar is their capital