This is the home system of the Nlians, members of the United Federation of Planets.



Nlians

The Nlians are a humanoid species native to the planet Nlia.
They are a gentle race, whose culture emphasizes sharing, cooperation and love of the environment.
Nlians are members of the United Federation of Planets and becoming increasingly common in Starfleet.
PLANET
"The desert is far from barren."
The Nlian homeworld is Nlia, an M-Class planet in the Norayis Sector of the Alpha Quadrant.
The planet has three main landmasses:
The Northern Land: A tiny island continent roughly the size of Turkey.
The Western Land: A large continent the size of Eurasia.
The Eastern Land: A large continent about the size of Asia.
Both the Western and Eastern continents are referred to collectively as the Southern Lands.
The Southern Lands are largely arid, comprised of endless deserts, towering mesas, deep canyons and arid savannahs.
In complete contrast, the Northern Land is temperate and covered with thick forests.
Much of the landscape of the Southern Lands is harsh and forbiddin

NORAYIS SECTOR
The Norayis Sector is in the Alpha Quadrant a little over 20 light years 'south' of Talos and 40 light years 'east'
of Klingon space It is located within the territory of the United Federation of Planets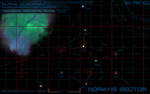 LOCATION
The Revla System is about 115 light years 'south west' of Earth.
It is in the northern part of the sector, south' of the Ziayfa System.

SYSTEM INFO
The system has one star, four planets and forty nine moons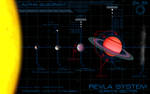 STAR
Revla
Type: G type yellow star

Icar
Class: K (Adaptable)
Rotation: 12 hours
Orbit: 220 days
Population: 25,000

Icar is the first planet from the sun.
Its a hot, arid world with several active volcanoes.
It's rich in ores and minerals, including dilithium.
It's the location of Nlia's largest mining facilities, refineries and shipyards and has many off world visitors.

The Nlians have always been as meticulous and careful about the environment of Icar as they have of their home planet
In the 400 years they've have mined Icar, they've used less than 0.4% of its resources.

Nlia
Class: M (Earth-like)
Rotation: 26 hours
Orbit: 370 days
Population: 500 million.

Nlia is the second planet from the sun and homeworld to the Nlians.
It's largely a desert world but home to a rice and vibrant civilization.

Moons:1
Tilva
Class: D (Barren, rocky)
Population: 2000
Tilva is rich in minerals and known for its unique geographical features.
It has mining facilities but it's outposts are primarily used for research.

To learn more about Nlia click here