So everyone remember this grid, right?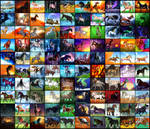 I'd like to do a second one! Only this time, it will be head/neck shots, as opposed to full bodies. There will also be no shading. 100 horses, 300 stats, lets DO this!
Breakdown:
Headshot, colors, colored lines (think Disney style), background x100
5 USD Per slot, there is no discount for multiple purchases.
I am NOT interested in slot trades to other grids (unless the artist is a fast worker), Denarii or slots to horses (will always be tempted by a nice starter, though. Especially Zebroids.)
IF YOU DO OFFER YOUR GRID, please do NOT
offer one slot to your grid for multiple of mine (I.e. 4 slots to mine for 1 to yours).
What I need from you:
Horse: Ref
ID Plaque: (even if it doesn't have an image uploaded)
Emotion/expression desired: (If none, I'll choose one that I feel fits the design! Can be any descriptor from 'Marylin Monroe', to 'Happy', I do welcome references too, like if you wanted the 'unamused' face that Kenai made in brother bear, and included the image to give me an idea.)
Additional Idea(s):
Please fill the form out for each individual horse. If you decide to buy more after the first order, don't reply to my comment. Make a whole new post on the order thread, so I don't miss it, please!
Current grid