Ok. After some careful deliberation, plus some discussion and feedback from

on the inking merits of the entries, here are the winners!!
The pieces certainly challenged everyone, as was intended, and the biggest trouble spots that we observed were overall depth of field for both pieces, the cross hatching for both, steadiness of hand and thickness of lines. The Artifacts cover had some particular issues with the wings of the lowest foreground character, Magdalena's spear point and the background giant head details. The Halo piece didn't have any specific focal issues. Everyone was pretty much comparable with that one!
Ok, to the winners!
For the Artifacts cover:
First place - Vitali Iakovlev :thumb487984827:
Second place - Jeff Graham, third place- Don Ho.
For the Halo pinup:
First place - Glaubermatos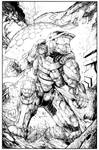 Second place - Fendin, equal third place goes to Surftiki and Matt James
Congratulations to the first place winners. I'll be contacting you for a postal address so as to send you the Walden Wong signed comics. As to the coloured files, well that'll take a little longer as I'm doing a bunch of commission and Zenescope stuff at present... But you will ultimately get them!

Im going to have to do this again I think next year sometime. Just as soon as I can get some more prizes organised.
cheers
Sean