Journal Entry:
Sat Mar 19, 2016, 7:20 PM
Listening to: "The Boys" by Girls Generation
So me and
TimeSketch
were talking about prints earlier, and I told her I really want to make Slime Rancher stickers.
So told me I should make a regular print of the drawing I did, which, I am interested in doing but I'm not sure.
So, would you be interested in a print of this?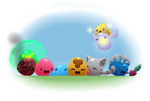 If there's enough interest shown I'll look into having some prints made and selling them!