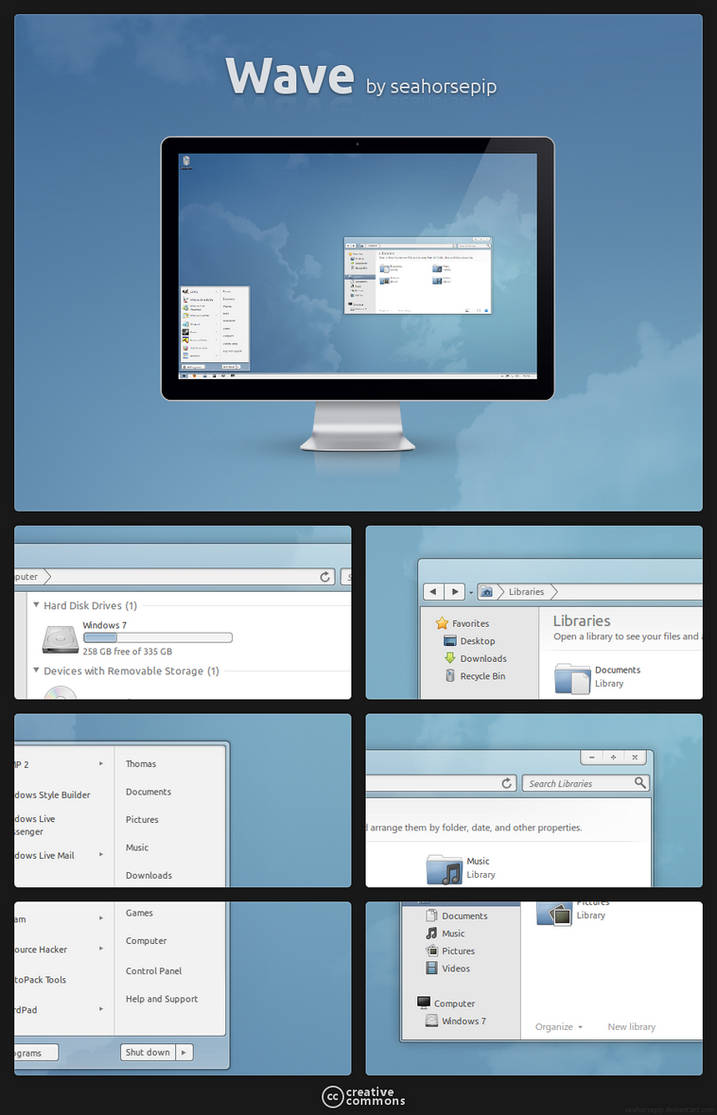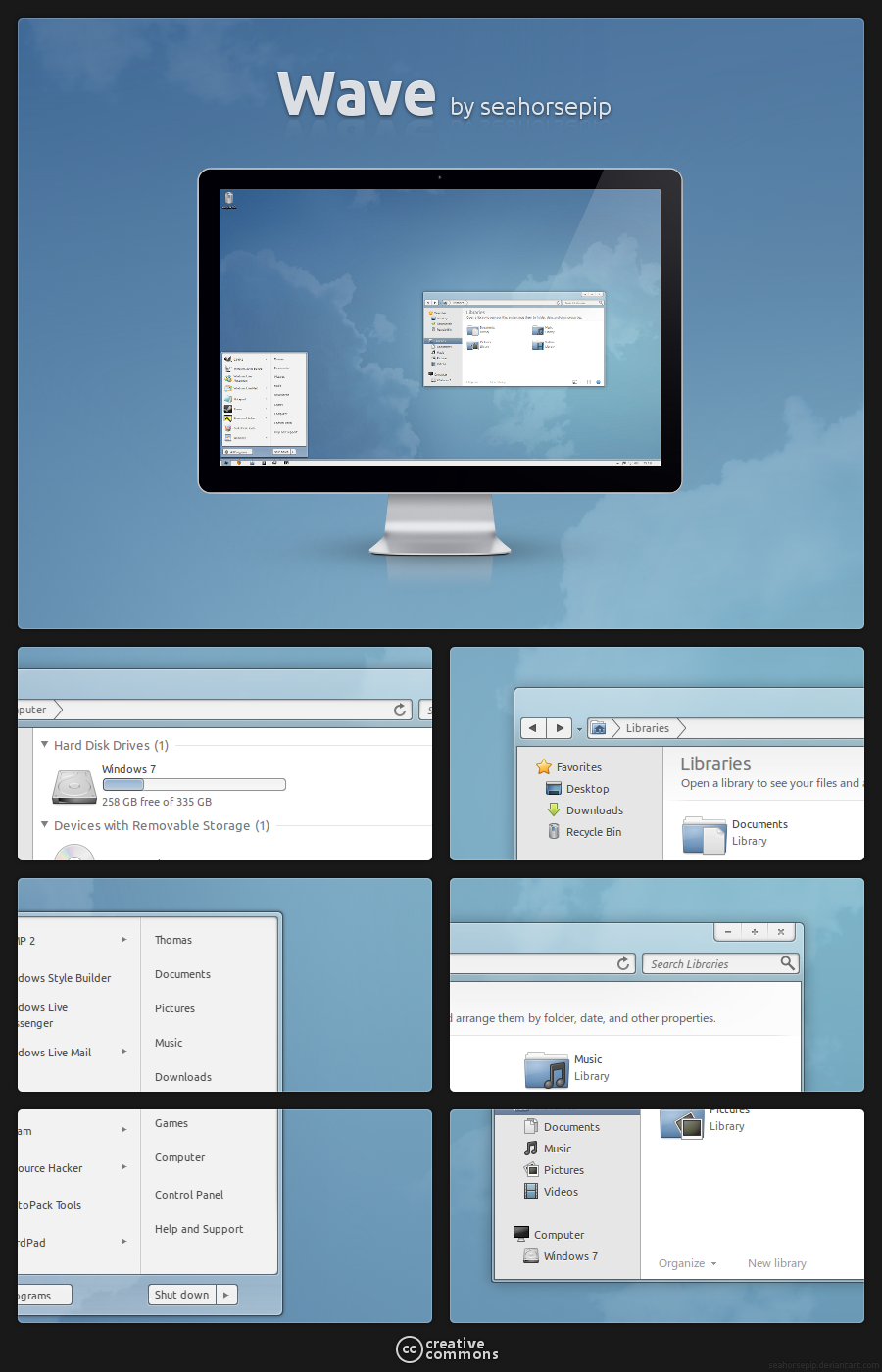 Watch
❝Wave for Windows 7❞
➭ Update:
March 8, 2011:
☑ Fixed zip problem with winrar.
☑ Not detected as virus anymore.
March 22, 2011:
☑ Added Firefox fix, see below description.
May 7, 2011:
☑ Big update with a lot of bug fixes!
➭ Installation:
To install run Setup.exe.
(take a look inside of the Manual folder to install it manually)
➭ How to support me:
★ Donate me

.
★ Fav this work.
★ Give a Llama.
➭ Firefox:
★ install the addon/theme below and select the 'Wave' styles:
➭ Other Wave stuff:
★
Wave-CAD
by ~
Toby847
★
shellbrd
by ~
dafmat71
➭ Software:
Give
gdipp
a try to make the font look awesome!
➭ Bugs:
If you see any bug please report it so I can fix it.
➭ Credits:
*
bgjerlowdesigns
~
DanRabbit
~
thepanda-x
~
SloAu
~
Nitnerolf
~
dafmat71
Daily Deviation
Given 2011-04-29
Using
Wave
by =
seahorsepip
makes your Windows 7 feel all lightweight and "fluffy".
One suggester said:
"This is one of the best combinations of Mac and Linux elements resulting into a great looking VS. Clean and original details with a wallpaper, which was also made by the author to compliment the style, will definitely refresh your desktop!"
And yet another suggester said:
"Wave is a simple and elegant Windows 7 visual style that skins literally every part of your system, including visual style, logon screen, icons, cursor etc... The easy install and theme consistency make this theme a must-have for Windows 7 users."
(Suggested by *fediaFedia and ~lordalpha1)
(
Featured by OtisBee
)
What can i say about Wave by =
seahorsepip
. It's a great theme and flows together very well. I love the look of it, from the thin frames, the excellent start menu to the icons included and the system files (explorerframe etc.). Also, the preview image used in this deviation is very appealing. It looks very clean and shows some of the best parts of this theme.
It is truly a really nice theme, and i think you should all try it out. It's very easy to install as well as it uses Custopack which does all the dirty work for you with the system files and so on.
The Artist thought this was FAIR
72 out of 79 deviants thought this was fair.
What can I say about Wave, it's minimal sleek and clean and on top of it blue (who doesn't love blue) and it's really something that other customizers should look up to, as an inspiration when designing VS. It has originality with all of those icons and wallpapers and also clean installer. It looks really nice on both on big lcd/led monitor and also small laptop and notebook lcd/led monitor. I hope it gets updated every now and then so it's always popular and works even better on Win 7. Wave is really something that everybody will like when trying it out. *SloAu
The Artist thought this was FAIR
107 out of 115 deviants thought this was fair.