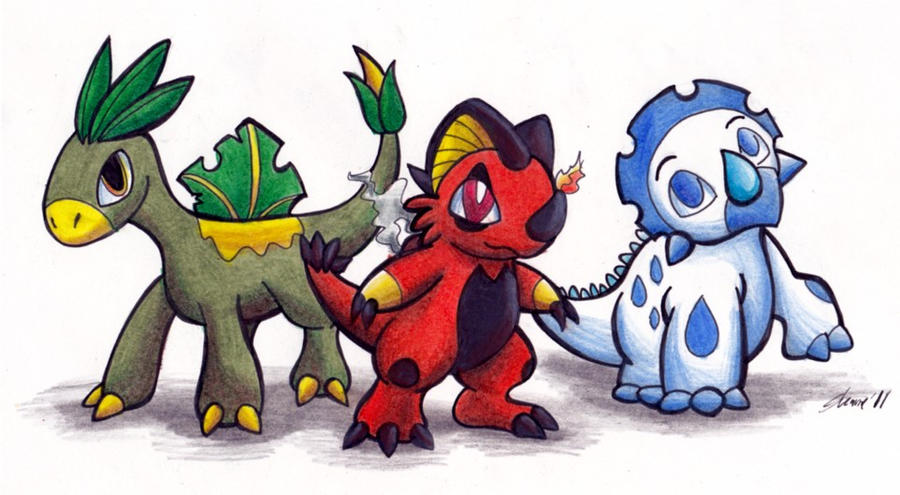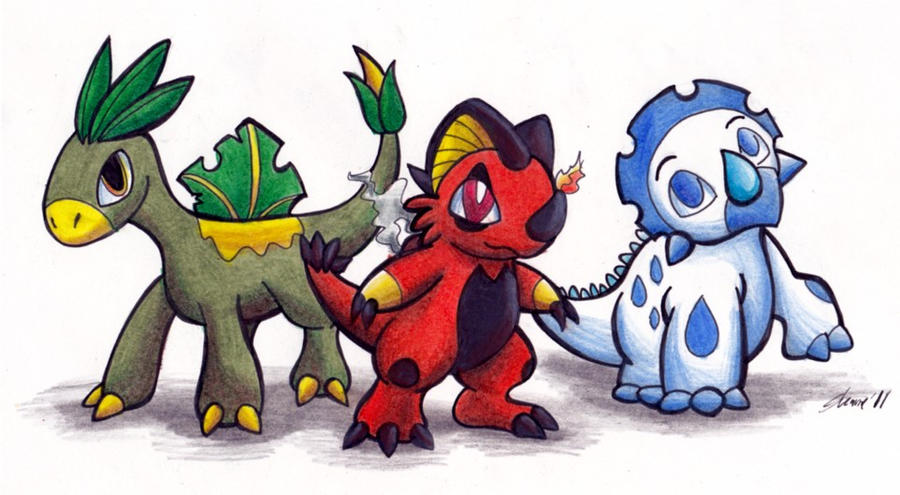 Watch
#001 Saileaf
Tree-Star Pokemon
Height: 2'11 ft
Weight: 21.3 lbs
The sail on its back collects sunlight, which helps to give it energy in the event of a lack of food. When it does eat, it usually preys on insects, which it lures by emitting a scent from the bloom on its tail.
Grass type
Saileaf -lv 15-> Dimetree
[link]
-lv 35-> Spinosword
[link]
~~~~
#004 Dilocano
Smoke-Plume Pokemon
Height: 2'9 ft
Weight: 20.8 lbs
It uses the flame on its horn to guide it through the volcanic caves it lives in. They mostly eat lava rocks, which burn its stomach to emit a constant plume of smoke from the spikes on its shoulders.
Fire type.
Dilocano -lv 14-> Volkera
[link]
-lv 36-> Krakataura
[link]
~~~~
#007 Ceradrops
Drizzle Pokemon
Height: 2'7 ft
Weight: 25 lbs
An organ located in its beak freezes the water that makes up its horn. In the event of a drought, it can let its horn melt to drink the water it leaves behind.
Water type.
Ceradrops -> lv 15 --> Styraqua (
[link]
--> ???
~~~~~
Well, here's my three starters for the Region dex I plan to eventually complete. Took me a while to come up with ideas for what to go with, but in the end, dinosaurs are always a safe solution.
Anyway, Saileaf is based somewhat on a Dimetrodon, with the leaf making up its sail is meant to resemble the tree stars from The Land Before Time. Thought it'd be a nice little shout-out.

As it can probably be guessed, the name is made up of "sail" and "leaf".
Dilocano is based mostly on Dilophosaurus in terms of the crest on its head, with a little bit of Ceratasaurus thrown in with the horn. Name is a combination of "DILOphosaurus" and "volCANO".
Finally, Ceradrops is based on the Ceratopian genus, with Monoclonius being the closest member resembling it. The name is made of of "CERAtopian" and "drops" as in water.
Micron ink pens, some sharpie.
Crayola color pencils.