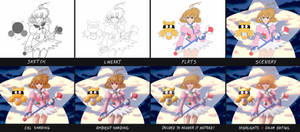 Yomi's Step by Step Pics + WIPs!
Thank you for stopping by! 😁 Feel free to subscribe to check out the process behind my art and get a Portfolio Review (+ Tips to improve your art!) as a welcome gift at the cost of a modest monthly donation! 🚀✨
---

358 copic color set for Manga Studio 5
Description
color sets for manga studio 5 (.cls files) - I just found the copic color chart online and put them all into files. I created:
1) A warm grey set
2) A cool grey set
3) A toner grey set
4) A neutral grey set
5) A full set of the current 358 copic colors (including the grey sets)
I zipped the .cls files altogether and here you go... enjoy.
EDIT: As someone was kind enough to point out below

was kind enough to link here via his blog and provide a downloadable Copic Brush to boot! here is the link to his blogpost:
www.pauljholden.com/blog/2013/…
EDIT #2: I have hundreds of faves and can't possibly go back and thank everyone for taking the time to fave this deviation as I do with my art... just know I appreciate it every time it's shared.