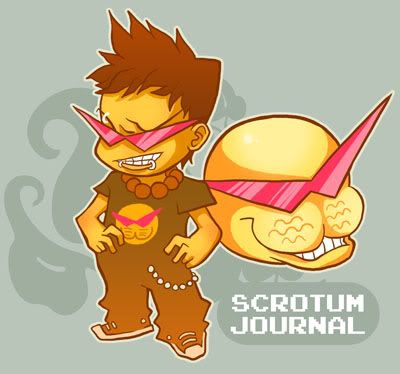 HOLY BAWLZ
the pixel ID thing is catching on, i had no idea that a small joint ID that me,

(although he's yet to post his, he's a busy man

),

and

would, like, make people wanna do their own!!!!
THIS IS EXCITING AND FUN AND AWESOME AND THIS IS WHAT DA IS ALL ABOUT
MAKE MORE, PEOPLE!!! i was ORIGINALLY going to get the crew that started this and arrange it all up into a character select screen, but so many people are adding their own awesome entries that i have to rethink this shit to make room for ALL THE NEW CHALLENGERS
CHRIST this is making me so happy, hahaha.
so like. IF YOU WANNA MAKE ONE, THEN BY ALL MEANS MAKE ONE. we have a list that we want to GROW AND RISE AND ENGORGE (alex im thinking of you)
the font that i used is called 'arcadepix', and you can download it here:
www.dafont.com/search.php?psiz…
NEW CHALLENGERS, GET???!?!?!??!!??!??!!one!11!1eleven!11!1onetwothreefour
no really GO MAKE MORE JOIN OUR FAMILY
**EDIT**
Section: HOW TO DO THIS SHIT??!?!?!?
WOW! so many awesome people are expressing their desire to do this! i thought that i'd post up some helpful links, seeing as how im a pixelart noob myself. these are the things that helped me make my ID:
DEREK YU'S PIXEL ART TUTORIAL:
derekyu.com/extras/pixel01.htm…
GUILTY GEAR SPRITES:
ggxlol.highervoltage.net/
GAME SPRITE ARCHIVE:
www.gsarchives.net/index2.php
the ID itself, i think, should have a constant dimension. i'll illustrate as much as i can! see below!
OH, AND ONE LAST THING. IT SHOULD BE *YOU* AS A VIDEOGAME CHARACTER, AND NOT ONE OF YOUR CHARACTERS!
OkAY??? OKAY??? OKAY!!! that's pretty much all i've got for you guys to go on, sorry hehe.
BUT BELIEVE IN ME, WHO BELIEVES IN YOU. they will be awesome, and we will have a great collection of awesome before we know it!
**7-25 EDIT**
JESUS CHRIST HOLY FUCKKKKKKKKKKK WTF WTF WTF A DD????????
NO FUCKING WAY
to tell you the truth i feel GUILTY because i cannot take the credit for this
I DIDN'T START THIS ON MY OWN
IT WAS ME,

,

,

,

,

,

,

THAT ALL DID THIS ON THE SAME DAY. TO BE PERFECTLY HONEST IT WAS

WHO KICKED US ALL INTO ACTION, SO YOU GUYS BETTER VISIT HER GALLERY AND GIVE HER LOVE DAMMIT!!!!!!!
CRAP ON A STICK i wish i had more time to react to this!!! im actually on vacation right now and wont be back until sunday... i won't have any stable roots to the internet until then! BUT!!! i'll do what i can, HOLY SHIT how the hell am i going to make a character select screen now???
ILL FIGGER IT OUT SOMEHOW, AND, WITH ALL OF YOUR HELP
BUT THANK YOU
thank you thank you thank you all so much
this is such a wonderful surprise, again, i dont deserve the credit for this but am really friggen grateful all the same.
AAARRGHHHHH!!!!!! ill update again when i have the time!!!