Anyone down for one? Those last two submissions were $50 each.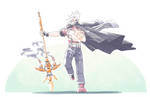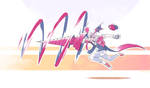 The flat color version of either would've been $35. The lineart versions, $20. And sketch version $10.
If that sounds cool to you, drop me an email me at scribblehatch@gmail.com with 'commission' somewhere in the subject. Or if you know someone in the market, do remember you saw this! You could always note me too, I suppose.


And I'm not opposed to lewds. But I don't know how far I'd be willing to take it. Don't be afraid to bring it up tho.